Young Women Speaking the Economy

Hafsat Abiola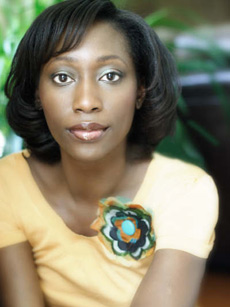 On Justice
To me, justice is a conversation taking place across time and space. Something that is perfectly acceptable today may be considered unjust tomorrow. The selections I want to share with you, I chose because I felt that they were the most powerful bridges for conveying us across the gap where we are currently, to a new place or a new era that better expresses our common humanity.
A powerful bridge had to meet any or all of the following three criteria: first, it had to present the voice of a vulnerable community in a manner that got our attention. As the renowned Nigerian-born author once Chinua Achebe once remarked, "Until the lions have their own historians, the history of the hunt will always glorify the hunter." It means that when the animals can tell their side of the story—when the hunted can speak—our perception of the hunter will be remarkably different. So I chose pieces that, by capturing the experiences of the hunted, broadened our understanding of our history.
Secondly, I looked for pieces that reflected a spirit of defiance, necessary for propelling women or other vulnerable groups to move beyond the parameters of what is accepted. In one of the pieces I considered and ultimately decided against including in my selections, there was a postcard with the dream "that women would have the support they need to change the world." Au contraire: I believe women must simply fashion our own mechanisms for securing justice and support, even when it means creating something out of nothing but sheer audacity.
We cannot afford to do what we've always done as women—to just take care of the children and the family. We have to go into the larger places we felt we didn't belong in before, because decisions made in those places are going to reverberate and affect us in our own, very personal, lives.
And, finally, I sought pieces where the subject simply cleared a place to stand and change the world, rather than waiting for permission. The challenge for women is that we're always waiting, and that waiting in itself is a problem. We cannot wait for permission: to wait for permission is to die waiting.
Curator Selections
About Hafsat Abiola
Hafsat Abiola-Costello is a human rights and democracy advocate from Nigeria and a member of IMOW's Global Council. She is currently serving as the Special Adviser on the Millennium Development Goals (MDGs) for the newly elected Governor of Ogun State, Nigeria. She also serves as the founder and non-executive President of the Kudirat Initiative for Democracy (KIND), an organization dedicated to strengthening civil society and promoting democracy in Nigeria.
Hafsat draws inspiration from her parents, both political activists. Her father, M.K.O. Abiola, was elected president of Nigeria in 1993, but served his term in solitary confinement and died in prison. Her mother, Kudirat, was assassinated on the streets of Lagos in 1996.
Deeply committed to strengthening the ability of people to be the difference, Hafsat has co-founded several initiatives including China Africa Bridge, which seeks to promote mutually beneficially projects between China and Africa; the Youth Employment Campaign and she is a member of the Global Advisory Council of Vital Voices. Hafsat sits on a number of boards, including World Future Council, Women's Learning Partnership, and Institute of Noetic Sciences. She received a Masters in International Development at Tsinghua University in Beijing in 2009.
Her husband Nicholas Costello is a diplomat with the European Union. Together they have two young children: Khalil and Annabella.
---
Get to Know
Hafsat Abiola
Learn more about Hafsat Abiola and why she's involved in IMOW's Curating Change.
IMOW Matters to Me Because… "it's celebrating women and all our many powers. And if we don't celebrate ourselves, who will? Also, it's nice to have a place where we women that see the power and beauty of women can gather to exchange notes.
A Mantra to Live by is…"We are enough." Essentially, I believe that we are enough to solve the world's problems.
My favorite book is… Markings, a book of poems and reflections by Dag Hammarskjold
---
Take Action
Learn which causes and organizations matter most to Hafsat Abiola and how you can connect with them.
I founded KIND in 1997 to honor my mother, Kudirat Abiola, who was a leading democracy activist and who was killed by soldiers during the period of military rule. KIND campaigned for an end to military rule in Nigeria, and following the restoration of democracy in May 1999, KIND established a Nigeria office in Lagos, where we work to strengthen Nigeria's democracy even further. I include it here because it takes risks to wake Nigerian society up to its responsibilities toward women.
I support the Center for Transformative Change because it links inner practice to outer transformation. If we are all ONE, then changing how we relate to ourselves, how we work for change will change our world.
I wanted to include the World Future Council because it searches for and highlights policies that are successfully addressing real challenges around the world, so that those policies can be replicated in more countries experiencing similar challenges. We are the change we have been looking for, and that's not a touchy-feely, vacuous comment. Changes are happening all around us. We simply need to be able to see them.