Young Women Speaking the Economy

Christy Turlington Burns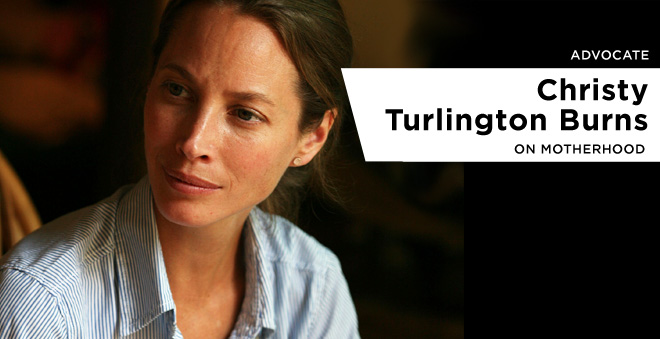 "As a Global Maternal Health Advocate, my wish is that every mother receives the information, care and support that is her human right no matter where she lives..."
Christy's Selections
It's often said that a mother's commitment to her children is undying, and "Las Madres" of Argentina reinforces that notion. It's empowering just watching other women take a stand for their children's safety and right to live. The Sisterhood of Motherhood is a powerful force, and actions like this bring us closer. Go to the selection >>

Dr. Suellen Miller is a friend and advisor to me and Every Mother Counts. Her dedication to ensuring that all women survive childbirth is awe-inspiring. Like Suellen, Rhoda is an example of such dedication. By educating her Zambian sisters, she is providing what may seem like the most miraculous of solutions. Go to the selection >>

With this beautifully connective and tangible piece, Rebecca Hoffman turns tragedy and pain into beauty and remembrance. It is reminiscent of the Safe Motherhood Quilt Project, orchestrated by midwife and activist Ina May Gaskin.
Go to the selection >>

We know that one of the keys to closing the gender gap is electing more female leaders. Dr. Massouda Jalal is not only a strong and courageous woman who strives to be the mother to her nation, she aims to break through the gender barriers in a country that calls into question how far off the U.S. is from having its own female president.
Go to the selection >>

It's as fun to look at the pictures accompanying Tracei Willis' poem as it is to read the poem aloud. She beautifully weaves together the lessons of generations of women who each pave the way for the next in line. In each woman's life are invaluable lessons for another.
Go to the selection >>

Striving for balance is something every mother can identify with. Karenna Gore Schiff emphasizes the importance of valuing our mothers and women in society and the importance in providing opportunities to let women be the best they can be in all walks of life. We need to support moms if we want our communities to thrive.
Go to the selection >>

Significant gender imbalances continue to hold women back, but we know that economic independence is one way to close it. Dana Whitaker's portrait of Stella, a mother holding her child with the cash she earned to pay back her microloan, gives a glimpse of just how empowering it can be for a woman to have access to these opportunities--not just for herself, but for her whole family. Go to the selection>>

Ami Nelson's essay gives us powerful examples of moms stepping forward to initiate change. Today there are more women at the forefront of every arena, inspiring change every day and at every level. Go to the selection >>

I remember speaking to OB's here in NYC when I was researching maternal mortality for my documentary No Woman, No Cry. When I returned from filming in Guatemala, where we saw wards of women hospitalized after botched abortions, I described what I had witnessed. The doctors reminded me that a very short while ago it was the same here in the U.S. Go to the selection >>

I started Every Mother Counts because every 90 seconds, a mother dies due to complications related to pregnancy or childbirth. I want to start a global movement advocating for the rights of mothers everywhere. Go to the selection >>
Curator's Statement: Christy Turlington Burns on Motherhood
I made the following selections based on the way we at
Every Mother Counts
, the advocacy and mobilization campaign I founded in 2010, seek to engage new audiences on the challenges and solutions to improve birth outcomes and reduce preventable maternal deaths.
As a Global Maternal Health Advocate, my wish is that every mother receives the information, care and support that is her human right no matter where she lives. I also believe in the Sisterhood of Motherhood and know that together we can make pregnancy and childbirth safe for all moms.
About Christy Turlington Burns
Christy Turlington Burns is the founder of Every Mother Counts, an advocacy and mobilization to increase education and support for maternal mortality reduction globally. In 2010, Christy directed and produced "No Woman, No Cry", a documentary film about the global state of maternal health. Prior to her work as a global maternal health advocate, Christy focused her activism on smoking prevention and cessation after losing her father to lung cancer in 1997. She collaborated on several public health service campaigns and launched an award-winning website, SmokingIsUgly.com in 2002. Christy is also an avid yogi and merged her love of the practice and writing to author her first book, Living Yoga: Creating A Life Practice (Hyperion 2002). She also founded two successful lifestyle brands; Sundãri, an Ayurvedic skincare line and nuala, a yoga inspired apparel and accessories line.
---
Get to Know
Christy Turlington Burns
Learn more about Christy and why she's involved in IMOW's Curating Change.
IMOW matters to me because...it's important for women to share their stories and inspire others to step forward and use their voices to contribute to a larger collective that can create lasting change in the world.
A mantra to live by is..."The time is always right to do what is right." -Martin Luther King, Jr.
My favorite place I ever visited was…the source of the Ganges River.
---
Take Action
Learn which causes and organizations matter most to Christy Turlington Burns and how you can connect with them.
I founded Every Mother Counts after the completion of the documentary film No Woman, No Cry. EMC is now an advocacy and mobilization campaign to increase education and support for maternal mortality reduction globally.
Amnesty International has done an incredible service in putting maternal mortality in the U.S. on the global map through their 2012 report, "Deadly Delivery." Together, No Woman, No Cry and this report were credited as the impetus for the Maternal Health Accountability Act of 2011, which aims to establish State maternal mortality review committees on pregnancy-related deaths occurring within such States; to develop definitions of severe maternal morbidity and data collection protocols; and to eliminate disparities in maternal health outcomes.
Vital Voices is an organization that trains women around the world to mentor other women and girls to be strong leaders.