Young Women Speaking the Economy

Breaking Traditions
Filipino student Kaneesha Paulate writes about how her decision to volunteer for an aid organization post-graduation conflicts with her family's desires and expectations--and what that might mean for her future.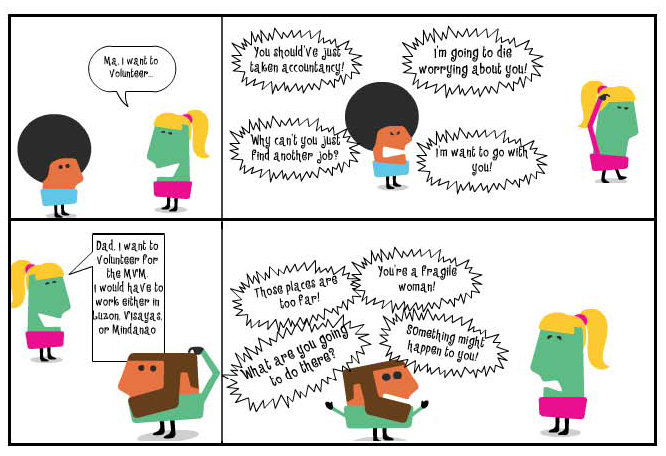 Cartoon by Kaneesha Paulate

The idea of volunteering post-graduation first occurred to me before I had even begun studying at Miriam College. During orientation for first year students, I learned about Miriam College's "Miriam Volunteer Mission" (MVM), which offers graduates the chance to work as full-time volunteers on the Filipino islands of Luzon, Visayas, or Mindanao, in specific mission areas such as non-governmental organizations, parishes, or charitable institutions for up to a year.

When I returned home from orientation, I told my Mom about the opportunity to volunteer after I graduated. Surprisingly, she said little about it at the time, and did not give out her permission or negation. Maybe she was thinking I would change my mind by the time I graduated.
Little did she know that as I immersed myself with other types of volunteer work, I became more and more certain that I wanted to apply to volunteer post-graduating. Four years passed, and the school held its annual job fair, where soon-to-be-graduates (including me!) were busy finding jobs and handing out their résumés. Since experiencing a month of on-the-job-training for a research institute last month, I realized that office jobs were not for me. I wanted to do field work, interact with people, and be with nature, rather than to sit in front of the computer for long hours. I was surer than ever that I wanted to apply for the MVM volunteer program.

Why Volunteer?

A common question I'm asked whenever someone learns about my plans for after I graduate is, "Why do you want to volunteer?"

I have chosen to volunteer because it may prove to have more impact on society, poverty reduction, and social development than policies and programs. Volunteering may not pay well, but what I'm after is the experience I will gain. Not only that, but it's beneficial to the public because it promotes solidarity, strengthens social capital, and improves quality of life, and it's beneficial to the volunteer because it teaches them important job skills and can be personally fulfilling.

Additionally, volunteer work can help a nation's economy. The National Statistical Coordination Board provided some insights about volunteer work in the Philippines. In 2009, the value of volunteer work in the Philippines was 44.5 billion pesos. In addition, from 2000-2009, 0.6% of GDP was comprised of volunteer work. Although these numbers may be small, these gradual increase in social capital and voluntary civic participation may result to large social and economic gains that may prove more effective compared to direct policy interventions or programs.

Eventually, I confronted my Mom about volunteering again. I said that I already passed my application and other requirements, and all I'm waiting for is the interview. I stood firm and let her see that I've already decided. She gave her permission, but she also signaled that she doesn't agree fully with my choice. She says that she'll die worrying about me, that she won't be able to see me for a long, and thinks that if something happens to me, she won't be able to help immediately. She's even been job searching for me, cutting out job advertisements from the newspaper and encouraging me to apply. While she says she supports my decision, it's clear that she is trying to persuade me against volunteering.

On the other hand, I was sure my Dad would be much harder to persuade, so I waited to tell him until I was certain I wanted to volunteer. When I did choose to tell him, he was quite angry, and asked me questions about my protection or security. He even rattled off a list of the terrible things that could happen to me: I could be kidnapped, raped, swindled, or fall victim to natural calamities such as earthquakes, typhoons, etc.

The culture of a Filipino family plays a large role in why my parents oppose my choice to volunteer. In a typical Filipino family, a child lives with their parents well into adulthood, and even when they have their own children. This tradition began centuries ago, and is still upheld by Filipino families today, including my family. It is very rare that a child in my family travels alone to a faraway place. If ever one migrates, the whole family migrates too.

It is as if I am breaking our tradition because I will be living by myself for a year, and the nature of the work I'll be doing is uncommon in my family. Almost all of my cousins who have graduated aim for stable and high paying jobs, whereas my job choice only provides a stipend, will send me to a faraway place.

Additionally, my parents think of me as a fragile woman because I've been under their care and protection for all of my 20 years. Now, I'm suddenly asking to be freed from that protection, and they are overwhelmed that my first job will be working so far from home. I can't help but wonder, though: what if I was a man? My parents would probably agree much more readily to me volunteering. They'd probably assume that a man could handle himself on his own. If I were a man, perhaps they would even be more vocal about being proud of my decision to volunteer--because it is a courageous thing to do.

I acknowledge that their worries are valid, but I can't let those worries stop me from doing what I know is right for me. I cannot always be stuck under their protection; I have to learn to be more independent and to be exposed to what is happening in society. I consider myself to be as strong and can be independent as any man. I will not let myself be tied down by the notion that because I'm a woman, I should just stay where I'd be safe and protected. It would be an insult to myself if I backed out from a job I wanted to do just because people told me that those jobs are too difficult for women.

I want to prove, both to myself and to other people, that I am not just a fragile woman: I am a capable and empowered, a versatile woman who can serve and at the same time lead.