Young Women Speaking the Economy

Musimbi Kanyoro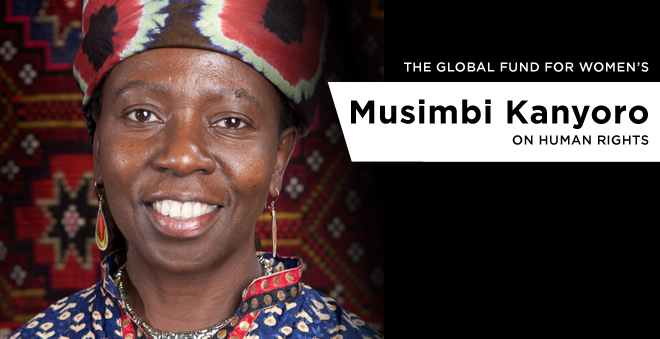 "Women are often depicted as simply victims. The women in the pieces I've chosen here have overcome the stereotypes and created their own Herstory..."
Musimbi's Selections
The future of women activism is the young women leaders from every generation and place who continue to claim their space and raise their voices, as do these women in Mongolia. Get inspired by innovation by seeing how they write themselves in history. Go to the selection >>

As a mother I cannot imagine what it means for someone to take away my child. Over the years, during my visits to Buenos Aires for work, I took time to join the walk in the plaza with the mothers and then with the grandmothers. As I write this, the first generals who were involved have been sent to prison.
Go to the selection >>

Claudine is a woman who illustrates what it means to overcome incredible hardships then take the next step and assist others. She takes her experience, orphaned from the Rwanda genocide and turns it into a voice for orphans in Rwanda. Her work is inspirational and calls for solidarity and action. Go to the selection >>

The art in this piece tells the story of how one can use local knowledge to address issues like gender-based violence and sexual harassment; which are issues that many communities cannot deal with directly. The illustrations help you see how community based action enables communication across gender and taboos. Go to the selection >>

Women in the Middle East have been at the forefront of political reform for decades; they did not begin with what we now call the "Arab Spring". When women succeed, the backlash is experienced through sexual and other gender based violence. Women in the photographs and interview show their courage to break the silence on oppression of women.
Go to the selection >>

Providing girls with an extra year of education boosts their self-esteem and opportunities for jobs. It opens more possibilities for her to care for her family, community and the world. The Zambian women in these videos illustrate all of the three. These women show what women want: to have self-determination and realization. Go to the selection >>

Rahel's story of returning to her home country, Ethiopia, to use her medical skills to work on fistula is extremely compelling. Every woman wants to have her sexual and reproductive health and rights protected. Fistula is a result of the violation of women integrity and dignity. Go to the selection>>

The social artist use of seeds is amazing. Seeds signify so many things - new beginnings, food, sustainability. Her work combines immense beauty and advocacy for social justice. This piece feeds the mind and the eye. The amount of talent and time of this artist is just incredible. See for yourself. Go to the selection >>

I was really struck by Rachel's photographs of Israeli women in the military. We often do pay enough attention to this aspect of women lives. Rachel's photos are a captivating take on equality because in Israel women are recruited in the same way as men. On the other hand, the photos reveal aspects femininity.
Go to the selection >>

When people leave their home, they carry their memories with them. Sometimes the old and new cultures don't mesh or can be at odds with one another. Art can help one find refuge in the known while learning to adapt to their new unknown.
Go to the selection >>
Curator's Statement: Musimbi Kanyoro on Human Rights
Women are often depicted as simply victims. The women in the pieces I've chosen here have overcome the stereotypes and created their own Herstory. Their creativity and ability to name themselves as "successful" on their own terms is spot on. As the young Zambian girl said, "I am a role model in my community" I am inspired by the forward-looking, hopeful demeanor of women all over the world.
About Musimbi Kanyoro
Dr. Musimbi Kanyoro is President and CEO of the Global Fund for Women, a public foundation which seeds, strengthens, links, and supports the capacity building of women's rights organizations in every part of the world. Global Fund for Women grants help to expand the choices available to women and ensure that their voices are heard at local, national and international levels. Prior to the Global Fund, she served with the David and Lucile Packard Foundation in California, USA, the World YWCA and Lutheran World Federation, both based in Geneva, Switzerland.
Dr. Kanyoro is a passionate advocate for Women and girls' health and human rights, and social change philanthropy. She serves on the Global Committee of the Council on Foundations, is a member of the Aspen Institute Leaders Council and the UNFPA/IPPF High level taskforce for Reproductive Health. She also serves on the boards of Intra Health and CHANGE. Dr. Kanyoro has more than 20 years of experience with international organizations, served on the international steering committee for the Beijing world conference on women, has led delegations to five United Nations World Conferences throughout the 90's.
Dr. Kanyoro has a PhD in Linguistics from the University of Texas, Austin and Doctor of Ministry in Feminist Theology from San Francisco Theological Seminary. She was a visiting scholar of Hebrew and the Old Testament at Harvard University. She has received three honorary doctorates and several recognition awards, including a leadership award from the Kenya Government. She has written numerous articles, hundreds of speeches and has written and co-edited a number books.
---
Get to Know
Musimbi Kanyoro
Learn more about Musimbi Kanyoro and why she's involved in IMOW's Curating Change.
IMOW matters to me because... It is digital and allows people from every part of the world to access and experience knowledge and information without borders.
People don't know that I can...Dance with a pot full of water balancing on my head.
A mantra to live by…"As a leader, I permit myself some time to dream before I think."
---
Take Action
Learn which causes and organizations matter most to Musimbi Kanyoro and how you can connect with them.
The Global Fund was funding and supporting the advancement of women and girls long before it became trendy
The World YWCA is a large movement devoted to young women's leadership, and has been tested for sustainability for more than 150 years.
Spark is a diverse group of young women and men who are giving new meaning to the words "activist" and "advocates."