View Story

MUSEUM PICK
The Barefoot Approach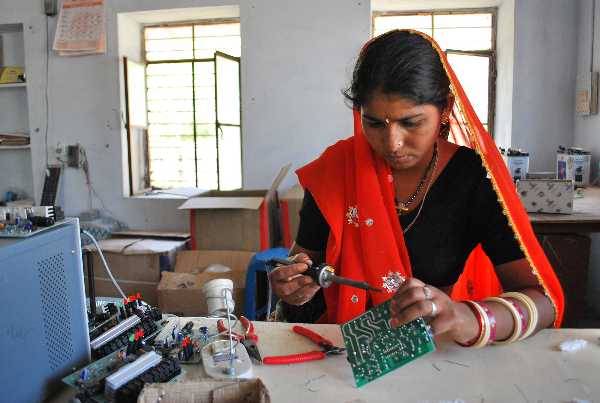 Husain Akbar
Filmmaker Sumithra Prasanna visits a unique institution in India that relies on community members, rather than experts, to help solve local problems. She found when the community was given the authority to solve their own problems, confidence rose, gender relations improved and a ripple effect of positive changes occurred.
Most often, we cannot tackle one problem without addressing other related ones. Social entrepreneurs working at the grassroots level recognize this. Empowering women may be central to solving many of our world's problems, since women take their learning back into their families and into their communities. But I keep wondering if we can truly liberate, educate and empower women to wield more social, economic and political power without at the same time altering male perceptions and attitudes towards women? Are we pitting poor women against poor men, forcing them to compete against one another for social status, jobs, and authority? Are we looking towards women in a last-ditch effort to help facilitate the process of transformative social changes?
When I got an opportunity to film for a documentary about "The Barefoot College," a nonprofit situated in Tilonia, in India's Rajasthan, I couldn't have been happier. The Barefoot College, founded in 1972 by Bunker Roy, is the only college in India based on the principles of Mahatma Gandhi. It has been built for and by the poor, and is managed, controlled, and owned by the poor. Perhaps here, in his college, I would find some answers to my questions.

At the heart of the Barefoot College's philosophy is the goal of building rural people's self-worth and confidence, a principle rooted firmly in Gandhi's central belief that the knowledge, skills, and wisdom found in villages should be used for the development of the villages themselves. And if any sophisticated technology from outside were to be used, then it should be controlled by the poor communities it is brought in to serve. Bunker Roy said, "The thing that these people lacked - and this was a tyranny for them - was a paper qualification. So, the first thing we did was to disqualify anyone with a paper degree."

The College promotes direct action for change through a very powerful women's movement - groups of women (Mahila Samiti) from neighboring villages come together to jointly discuss and share information on women's rights, health and legal issues, and political practices and policies that affect them. There are no leaders here. There is no one-upmanship. At best, there are coordinators from Barefoot who help facilitate the process. It's democratic. It's decentralized. It is participative problem solving and decision making.

The thing that you notice first as you enter the campus at Tilonia is that there are so many women performing roles that challenge traditional notions. There's Nandu, the caretaker, who greets you with a smile as you enter the guest house, and makes sure you have a good room to stay in; there's Ghulab, who started off as a hand pump mechanic, but is now a Barefoot Solar Engineer; there's Naurthy, a wise old woman who has learnt to work on computers, and is now training other women like herself; there's Shenaz, a very articulate solar cooker engineer; there's Bhanwari and Kesar, the Barefoot dentists ... the list is endless.

What's unique about these women? They are poor. They are illiterate or semi-literate. Many among them are middle-aged. But they are tough, and exceedingly smart. They are confident, articulate, and are always eager to learn things that interest them.

The Barefoot College has six areas of focus, all of which have been formulated to address a need of the surrounding community: drinking water, education, alternative energy, environment, empowerment of rural women, and traditional communication.
Rajasthan is probably the driest state in India: nearly two-thirds of the state suffers from recurrent water scarcity. This was one of the first problems that the college tackled, because non-availability of water led to other issues. Women and girls had to walk long distances to find water, which meant that their days were long and arduous, their health suffered, and little girls had less time for school since household responsibilities were more pressing. Foreign engineers would have argued in favor of cost-intensive methods to tap groundwater, or to set up a piped water supply that could draw on permanent water sources situated several kilometers away. But the College chose to consult locally, and to apply local intelligence and know-how. As a result, they turned to the simple but effective system of rooftop rainwater harvesting, a method that catches rainwater using rooftops of schools and other buildings, and channels it to underground tanks. Rainwater harvesting has enabled 470 schools and community centers to collect and store nearly 29 million liters of rainwater at a cost of 10 cents a liter - a viable, low-cost method that has provided drinking water and sanitation to rural communities, and brought more kids, especially girls, back to schools. And for those children who have to work during the day to shepherd livestock, night schools have been established so they don't have to neglect education.

But by far the biggest achievement of Barefoot is its use of an alternative energy source. Solar electricity powers its own campus as well as over 90,000 of the poorest households across India. The College has also gone global - more than 340 ordinary village men and women from eight countries in Asia, Africa, and South America have been trained as Barefoot solar engineers.

Each of the focus areas has a cumulative effect - availability of water has lessened the work burden for women, and has allowed them to focus on crafts. This has in turn provided them an additional source of income. Solar electrification, apart from making night schools possible, is also eco-friendly since it cuts down on, and gradually eliminates, the use of firewood, diesel and kerosene for cooking, heating and lighting.

But the most important consequence of relevant, appropriate and meaningful education here is the empowerment of rural women. I'm told that there is a visible change in the attitudes of men towards women, and women towards men, and the villagers' perceptions towards social issues.

Adapting to the Barefoot experience requires you to unlearn what you learnt, and purge what you think you know. In fact, at Barefoot, you are faced with the very antithesis of what you understand of education. When you see mothers and grandmothers learning a new craft, and gaining expertise in a new technology, you are amazed. Here are women who are charged by the power of possibilities, and for whom old age is not an excuse to stop learning.

Barefoot gives me a lot of hope. It demonstrates that any systemic change has to be rooted in local needs and aspirations. It shows that tackling people's attitudes and cultural mindset is an important component of any development agenda. People know best what they need. All they require is a window of opportunity, and they can accomplish anything they want. If they will it, they can.
REFERENCES
Bornstein, David. 2004. How to change the world: Social Entrepreneurs and the Power of new ideas, Oxford University Press.
Agarwal, Bina, Jane Humphries and Ingrid Robeyns. 2004. Capabilities, Freedom, and Equality: Amartya Sen's work from a global perspective, Oxford University Press.
June 2005. Report of the Expert Committee on Integrated Development of Water Resources.