Phumzile Mlambo-Ngcuka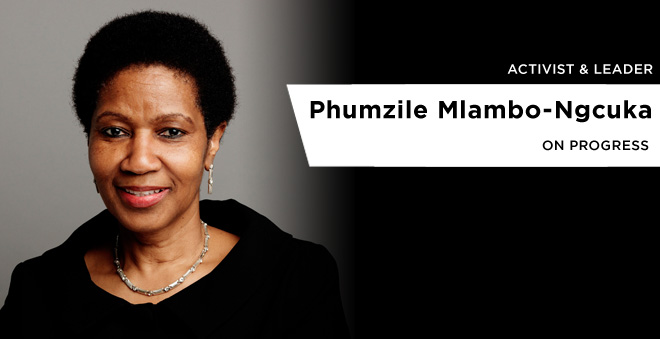 "In curating this exhibition, I focused on the stories of women who are speaking out, making change and showing us that progress is possible."
Phumzile's Selections
Curator's Statement: Phumzile Mlambo-Ngcuka on Progress
When I wake up each morning, what motivates me to get out of bed is not coffee, or a hot shower. It is not the sun shining through my window, or worries of the work that lies ahead. No, each morning I wake up inspired by the achievements of the incredible women I work with and for as the Executive Director of UN Women.
In curating this exhibition, I focused on the stories of women who are speaking out and creating change for themselves and future generations. Their stories show us the work involved in arriving where we are today, and that we can do even better.
As we commemorate the 20th anniversary of the Beijing Women's Conference in 2015, and I reflect on the progress we have made, I keep their stories in mind, remembering the work that has brought us here.
About Phumzile
Phumzile Mlambo-Ngcuka is the Executive Director of UN Women. She has devoted her career to issues of human rights, equality and social justice. Ms. Mlambo-Ngcuka has worked in government and civil society and was actively involved in the struggle to end apartheid in her home country of South Africa.
From 2005 to 2008, she served as Deputy President of South Africa, the highest ranking woman in the nation's history. Prior to this, she served as Minister of Minerals and Energy from 1999 to 2005 and Deputy Minister in the Department of Trade and Industry from 1996 to 1999. She was a Member of Parliament from 1994 to 1996 as part of South Africa's first democratic government.
Ms. Mlambo-Ngcuka began her career as a teacher and gained international experience as a coordinator at the World YWCA in Geneva, where she established a global programme for young women. She is the founder of the Umlambo Foundation, which supports leadership and education. A longtime champion of women's rights, she is affiliated with several organizations devoted to education, women's empowerment and gender equality, and has a PhD in education and technology.
Get to Know
Phumzile
Learn more about Phumzile and why she's involved in IMOW's Curating Change.
IMOW matters to me because... it is a unique and vibrant space for women change-makers!
A mantra to live by... Inaction is not an option.
I Exhibit Change by listening, learning and lifting up others.
Take Action
Learn which causes and organizations matter most to Phumzile and how you can connect with them.
I worked at the YWCA back home in South Africa as a teenager and in Geneva leading education programmes for young women. I learned a lot about leadership from the World YWCA!
I founded this foundation to improve school leadership to win the fight against poverty in South Africa. I am immensely proud of all the progress we have made and the positive changes we have implemented in our communities.
I have had the privilege to lead UN Women since August 2014. Our mission is to advance gender equality and women's empowerment worldwide. This is the greatest cause of our century.