Education
This section has been designed for use by educators and students across the globe. Take advantage of our curricula written to support learning in English-speaking classrooms. See how teachers and students at both the university and high school levels have used our exhibitions. Use the resources we've developed for our multilingual online exhibitions to supplement your course materials.
---
Power & Politics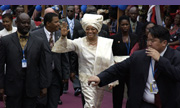 Curricula for Women, Power and Politics are here! See how you can use this online exhibition to supplement and enhance your course materials.
Economy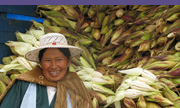 Our educator's guide to Economica: Women and the Global Economy offers teaching tools. Download the guide and use it in your classroom.
Muslima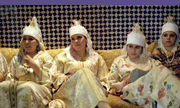 Use our Muslima Discussion Toolkit and other resources to spark important conversations about stereotypes and prejudices in your classroom or community.
---
| | |
| --- | --- |
| Podcasts | Listen to podcasts recorded for our online exhibitions Women, Power and Politics and Economica. Learn from insightful, brave, determined, and entrepreneurial women. |
| Programs | Listen to podcasts recorded at inspirational Speaker's Series events. Speakers include Alice Walker, Malalai Joya, Beatriz Merino and Nicholas Kristof. |