Delta on Fire
Nigerian Women's Resistance
Nigeria is one of the world's top ten oil producers, and the source of its wealth lies in the southern Niger Delta region. For decades, the clash between multinational oil companies and the Delta people has been a violent one. But in the early 21st century, the face, and means, of protest changed. Groups of unarmed women descended on oil facilities from Eket to Escravos. They demanded jobs for their husbands and sons, investment in the local infrastructure, and a halt to the pollution that has devastated their homeland.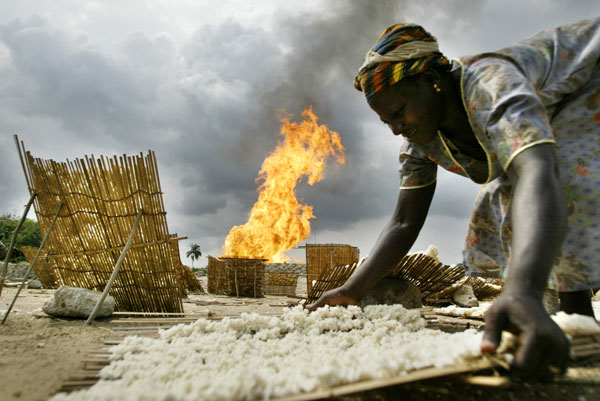 Régine Debatty
Where male protesters had resorted to kidnapping and sabotage to make their point, the women's weapon of persuasion was, simply, their very presence. They sang, and they chanted and blockaded doorways, not letting workers in or out. Others breached the barricades and shut down production at some of the world's largest, most powerful oil companies for weeks.
Some women's groups were met with a violent response from the Nigerian military protecting the companies and had to shield each other from harm. The peaceful protesters had only one weapon: they threatened to strip naked, and shame the men around them. Traditionally, it is an abomination for a Nigerian man to see a mother or grandmother naked.
In what has shaped up to be ongoing deliberations, various companies have come to the table with varying degrees of concessions and reparations, and women have continued to protest and fight for their rights and their homeland.
To learn more about the lives of women in the Niger Delta listen to the radio piece Delta on Fire: Nigerian Women's Resistance, produced by National Radio Project's Women's Desk for the international radio program Making Contact. The full audio file is available in English.
Making Contact showcases voices and perspectives rarely heard in mainstream media, focusing on the human realities of politics and the connections between local and global events, emphasizing positive and creative ways to solve problems.
In this episode, first broadcast in March, 2000, we hear women of the Niger Delta explain how oil drilling has transformed their communities: their lives and livelihoods; their health and that of future generations; and how they are working together to confront both exploitation and patriarchy.
Here are some excerpts from the interviews:
Grace Ekanum, a leader of the women's movement in Eket:
"After 30 years of ... oil exploration, we still see our people suffering, our children dying day in and day out. Our husbands don't have jobs. Our children don't have jobs. ... What really brought me to be an activist ... is because of the oil spill that happened on the 12th of January of 1998. ... So many things went bad. ... Our fishes all died in the waters. ... That made us to fight for our rights. ... Oil pollution has killed everything and that is why we are suffering."
Joi Yowika, Nigerian Attorney and member of the minority Ogoni ethnic group:
"I've done a lot of cases for the rights of women. ... basically, staff of multinational oil companies, taking advantage of the poverty of our people and the young girls. ... For instance, they get them pregnant and walk away, ... introduce them to drugs, ... seducing these girls with money."
Esther Elenwa of the Egi Women's Movement:
"We demand for the lights. We demand for the road. We demand for the water! They said they would do it in principle. We said, "no, we don't like principle." Said, "now or tomorrow or next tomorrow, I will do!"
Annie Brisibe, Program Officer, Niger Delta Wetlands Center:
"Our men have a habit of marrying so many wives. ... The woman is under a man. Not even beside a man. ... We have been trying ... to mobilize women. ... It's more or less like training of trainers. They take it back home and they continue the process of reorientation, creating awareness, the reasons why women should know her rights. ... And also to make the Nigerian man, specifically the Delta man, understand that the woman is no second fiddle."
Gloria Monn, director, Grassroots Development Organization:
"A typical Nigerian man thinks that a woman's voice is better not to be heard... And all the decisions taken in the community are taken by the men and handed down to the women. ... And so, my organization thinks that it is time for the women in the community to rise up and be part of what happens in the community. ...Even if it takes ten years, twenty years, but we know definitely it will make progress, slowly, slowly."
---
Featured with the permission of the National Radio Project.