Kuwaiti Women's 1st Election Day
Until June 26, 2006, women were not allowed to vote or run for election in Kuwait. On that historic day, thousands of Kuwaiti women waited in sweltering 102-degree heat to cast their vote for the first time in their country's history. Unfortunately, out of 28 women who ran for parliament, not one was elected, although many fared well. The novice women voters--who now form two-thirds of the Kuwaiti electorate--gave their vote to the veteran male Islamist candidates.
ButlerFilms LLC/ National Democratic Institute (NDI)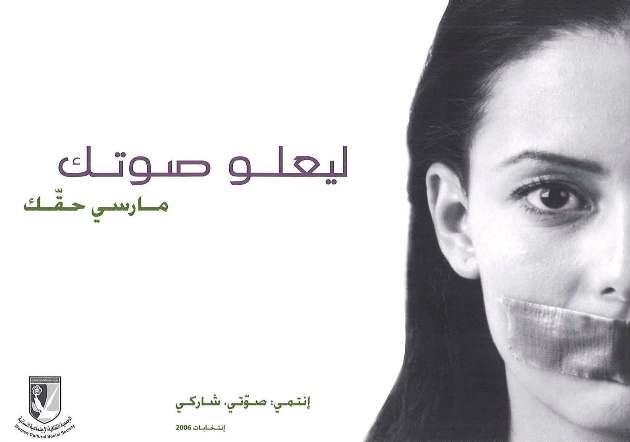 Women's Cultural Social Society/ National Democratic Institute (NDI)
Women's Rights in Kuwait
In comparison to most Gulf nations, women in Kuwait enjoy abundant civil and economic rights. According to a United Nations Development Programme report, women comprise two-thirds of university undergraduate and graduate students in Kuwait. In 2001, women formed a third of Kuwait's labor force and received equal pay for equal work in both public and private sector jobs. So why have Kuwaiti women been denied basic political rights until only two years ago?
Brian Katulis, Senior Fellow at the Center for American Progress, offers one possible answer. His 2005 report on Kuwaiti women's rights revealed a popular complacency about politics in general, and women's voting rights in particular. Suffrage simply did not rank high on Kuwaitis' priority list.
Katulis found that the Kuwaitis, men and women, were "quiescent and inactive" about politics mainly because Kuwait, an oil-rich welfare state, showers them with benefits. In addition, the majority of people Katulis interviewed believed that Kuwaiti politics, plagued with tribal politicking, rampant nepotism and vote buying, would not change even if women were given the right to vote.
Islam and Women's Suffrage
The Kuwaiti Emir Sheikh Jabir al-Ahmad al-Sabah has attempted on several occasions to extend suffrage rights to women, but has always found vehement Islamist opposition in the parliament. In a speech before the parliament in 2004 he argued: "Kuwaiti women should be able to vote and stand in elections as candidates. They have been equal partners to Kuwaiti men and have shouldered their responsibility."
The Islamists have opposed the Emir's wishes because they believe that women's political rights contradict Islamic principles. As proof, they have referred to a famoushadith, or reported saying of the Prophet Muhammad: "A people which has a woman as leader will never prosper."
Many influential Islamic scholars, however, have argued that this hadith does not deny women the right to vote. One such authority is Sheikh Zoubir Bouchikhi, the Imam of the Islamic Society of Greater Houston's Southeast Mosque, in Houston, Texas. He is a proponent of women's right to vote and has issued a fatwa, or religious ruling, in its defense:
"In Islam, there is nothing to prove that women should or should not vote to choose a leader. ... I should affirm here that the Imam who denied women the right to vote is following his culture and not his religion. ... More than a half of the world's population are females, and if we ignore this big number, then we are condemning ourselves. ... Moreover, there are women who make more sense when they speak and act than some men. So what does that mean? I wish Muslim women all the best."
First-Time Voters, First-Time Voices
When the first Election Day finally arrived for Kuwaiti women, they did not vote for women candidates. Instead they chose to vote for the veteran male Islamists who are, ironically, well-known for their outspoken opposition to women's political participation. Just after the election, Afaf, a 39-year-old sales clerk told AsiaNews: "The women candidates are still politically naïve and have not had enough time to get ready for the elections."
The Islamists' victory did not come as a surprise. Their message of tradition and women's revered role as mothers and homemakers has always appealed to a great number of Kuwaiti women. The fact that Islamists are household names in Kuwait also helped.
"Islamists are well known and have charisma," according to Nasser al-Abdali, the head of the Kuwait Society for Development of Democracy in the AsiaNews. "They have wide support among women."
Defeated women candidates responded in differing ways to their loss at the polls. Badrya Darwish commented in the Kuwait Times: "Even some candidates who stood against women's rights made it this time on the backs of women. I call this a betrayal. Women betrayed their sisters."
Aisha al-Rushaid told the online newspaper Quantara that the election "was a good experience that we learned from, but that circumstances were not aligned in favor of women." She was talking about the fact that Kuwaiti women had only 20 days to mount their campaigns and get to know their constituents, whereas their male competitors were all seasoned and well-known politicians.
Maha Barjes, a member of Kuwait's Human Rights Society, declared that she finally felt like "a full citizen." She blamed neither her fellow women voters nor the tough circumstances for women's loss, but instead rejoiced because democracy has been achieved in Kuwait.
The fact that women voted for the Islamists--and, according to some, against their better interests--is a perfect example of democracy in action. In an interview with The New York Times, Barjes said: "The competition is very strong ... There are a few of the women candidates who were strong, but this is democracy--you can't force anyone to vote a certain way."