Disney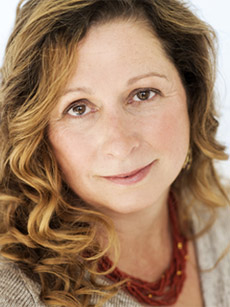 Abigail Disney
ON WOMEN, WAR AND PEACE
In 2003, my friend Leymah Gbowee and the women of Liberia brought an end to their country's civil war though peaceful protest. Their sacrifice and success taught me a powerful lesson: peace is not a moment or a state of being. It is not some far distant impossibility never to be achieved. Peace is a process, a verb, history with a small 'h.' Peace is something to be worked toward. It takes great strength to fight for peace during times of conflict and so often this process falls on the shoulders of the women who are left to the task of surviving during war—of caring for their families and their communities.
My selections for IMOW show the multi-faceted resiliency of women in the face of the terrible physical and emotional violence experienced during war. I find the courage and determination of these women incredibly inspiring and I hope that their stories will propel viewers and readers to think of women not as victims, but as survivors, leaders and peacemakers. Learn more about Abigail Disney>>
---
CURATOR SELECTIONS
| | |
| --- | --- |
| I am deeply moved by Khoshboo's story. Khoshboo, like Anne Frank before her, shoulders an immense burden at a young age even as she faces a shaky future. How many young girls like Khoshboo might there be in Afghanistan, Somalia or Colombia? And how many never have their stories told? | This story by Zainab Salbi offers a glimpse into the horrors that Bosnian women have survived and continue to suffer through. Stunningly, Bosnia still teeters on the edge of conflict and Bosnian women still live in constant fear that the terrors of the nineties will return in full force. |
| Loung Ung is the ultimate survivor. She didn't just endure trauma, she transformed her suffering into a positive force that gave her life purpose. In this story, Loung Ung describes how her decision to live a life of meaning empowered her to reinvent herself, and teach others how to live a a life of meaning. | The images in this photo series move me enormously. The incongruity of the women's lives and the ruin around them reminds us that no matter how often we see war and destruction in the headlines, the damage caused by conflicts is not normal, acceptable nor inevitable. |
| The Nigerian women featured in this article inspired Leymah Gbowee, the leader of the Liberian women featured in the film Pray the Devil Back to Hell, when she led the takeover of the 2003 peacetalks in Ghana. Stories like this one must be brought to light: you never know who might take courage from them and do something amazing! | Raja Oshi's arresting paintings capture the sentiments of women and children at war who have no say in its conduct, yet suffer so disproportionately its consequences. The shapes, colors and images in these paintings evoke the life of limited possibility and near perpetual anguish women and children must suffer. |
| This is the story of Dr. Rajaa Al-Khuzai, an OB/GYN who stayed in Iraq to perform cesarian sections and other life saving operations, despite the constant threat of danger on all sides. A former member of the Iraqi parliament, she continues to inspire women across her country. Some women are too amazing to forget! | We are so enamored of new technologies that we often forget to make use of a means of communication that is ubiquitous, easy to use and affordable—namely, the radio. These Nicaraguan women put the radio to use in their efforts to retake their political power. Their example should be an inspiration to women from Africa to Asia to Eastern Europe. |
| I long for the day when women in war mongering countries will rise up on behalf of their sisters around the world. Through words, music and images, Megumi Nishikura talks about her own activism for peace. | Desmond Tutu wisely teaches us that those we cannot forgive hold power over us. Forgiveness will have to be the great virtue of this century because people in every corner of the world have a story of victimization. If the amazing women of Rwanda can offer their forgiveness, we are certainly all capable of doing so. |
ABOUT ABIGAIL DISNEY
Abigail Disney is a filmmaker and philanthropist. Her longtime passion for women's issues and peacebuilding culminated in her first film, the acclaimed "Pray the Devil Back to Hell," about the Liberian women who peacefully ended their country's fourteen-year civil war. She is currently Executive Producer of the groundbreaking PBS mini-series "Women, War and Peace," the most comprehensive global media initiative ever mounted on the role of women in peace and conflict.
Along with her husband, Pierre Hauser, Abigail co-founded the Daphne Foundation, which works with low-income communities in the five boroughs of New York City. Her work in philanthropy, women's engagement and leadership, and conflict resolution has been recognized through the Epic Award from the White House Project, the Changing the Landscape for Women Award from the Center for the Advancement of Women, and the prestigious International Advocate for Peace (IAP) Award from the Cardozo Law School's Cardozo Journal of Conflict Resolution. In addition, Abigail holds degrees from Yale, Stanford, and Columbia. She lives in New York City with her husband and four children.
---
GET TO KNOW
Abigail Disney
Learn more about Abigail Disney and why she's involved in IMOW's  Curating Change .
IMOW matters to me because…  I've seen first hand how often women's voices have a way of disappearing from the public dialogues. I love IMOW for ensuring that women are heard!
My favorite book is… Middlemarch by George Elliott
People don't know that I can…  cook a gourmet dinner without a cookbook, shoot a jumpshot and do the New York Times Saturday crossword in ink.
---
TAKE ACTION
Learn which causes and organizations matter most to Abigail Disney and how you can connect with them.
The Global Fund for Women invests in and mobilizes resources for women-led human rights organizations and movements worldwide. This allows them to seize opportunities, respond to crises and build their organizations. Our Women Dismantling Militarism Initiative supports women's actions that address militarism and offer innovative models that build enduring peace.
The Afghan Institute of Learning provides educational classes for over 25,000 students every on a small budget and against all odds. They are commited to improving the health and education of Afghan women and children, and to bring peace and dignity to the Afghan people as they struggle overcome injustice and oppression.
WIPSEN-Africa, founded by Leymah Gbowee, promotes women's strategic participation and leadership in peace and security governance in Africa. Through grassroots mobilization, action-oriented research and strategic dialogue, WIPSEN-Africa fosters collaborative, non-violent and sustainable peacebuilding efforts.