Dufu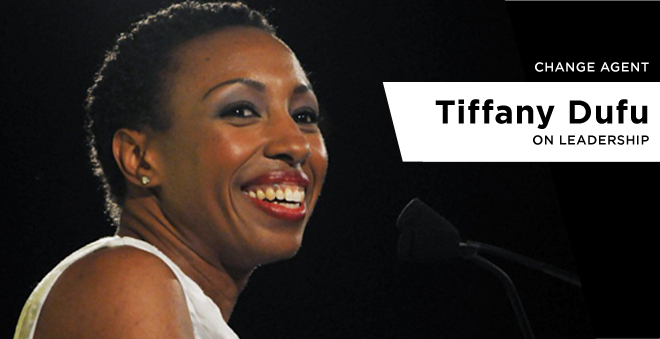 "My life's work is advancing women and girls. It's why I'm on the planet. So my life is simple. I pretty much know what's on my tombstone and I'm just project managing my life backwards. Any woman has the ability to be a leader..."
Tiffany's Selections
Curator's Statement: Tiffany Dufu on Leadership
My life's work is advancing women and girls. It's why I'm on the planet. So my life is simple. I pretty much know what's on my tombstone and I'm just project managing my life backwards. Any woman has the ability to be a leader. Women around the world are leaders in their own communities, across many sectors, and within their families. 
And yet, many women do not realize that they have leadership capability. The White House Project provides women with larger ecosystems of support, through leadership trainings and networking events, and in turn their confidence and their ambition and their leadership capacity get bigger. These stories from IMOW exhibitions highlight the leadership of women worldwide, the challenges facing the generation of women entering the workforce, and women across America in community leadership positions. Most importantly, the stories show that women can find a balance between the public and private sphere.
About Tiffany Dufu
In the summer of 2012, Tiffany was chosen as one of the 60 notable members of the League of Extraordinary Women by Fast Company—a list that includes Oprah Winfrey, Abby Disney and Alicia Keyes. Raised in the Pacific Northwest, the daughter of a homemaker and a minister, Tiffany was an early feminist who challenged the perceptions of adults around her who often insisted that "little girls can't lead." She knew that she needed to effect change, and also wanted to be public about it—so that other girls could be leaders, too. Now, as President of The White House Project, Tiffany is moving forward as a positive force, igniting the leadership of women in both business and politics. She continues to be an active and visible member of the women's leadership community—honored by Mattel in 2011 as one of their 10 Women to Watch and by the National Council for Research on Women in 2012 as one of 30 women making change in the world today. Tiffany joined The White House Project in 2006, forging new partnerships, strengthening the Corporate Council, and refining the organization's strategy. Having raised nearly $20 million toward the cause of women and girls, she has been featured in The Seattle Times, The New York Times, on NPR, and is a frequent speaker on women's leadership and nonprofit fundraising. In March 2012, Tiffany was named one of 19 "women who are leading the way" in the Huffington Post amongst luminaries such as Sheryl Sandberg and Hillary Clinton. Follow Tiffany on Twitter and Facebook.
Get to Know
Tiffany Dufu
Learn more about Tiffany Dufu and why she's involved in IMOW's  Curating Change .
IMOW Matters to me Because... a diversity of voices is the key to every endeavor. IMOW allows women (and men too!) of all ages to be inspired—by seeing and reading others stories, we learn something new about ourselves. It also allows us to know there is a collective of women who are all striving to improve the world around us.
A Mantra to Live By… If you want something you've never had before, then you have to do something you've never done before.
I Exhibit Change By… Acting as my own change agent everyday. Everyone needs to authorize herself to take action.
Take Action
Learn which causes and organizations matter most to Tiffany Dufu and how you can connect with them.
I am the President of The White House Project. The mission of The White House Project is to ignite the leadership of women in business and politics. We connect, coach, and educate an ever-expanding alumnae network of 14,000 nationwide. With a focus on women age 21-35, we activate the ambition, creativity, and skills necessary for innovative and effective leadership.
SGS is a 5th through 8th grade middle school committed to empowering young women to be leaders in their communities through a challenging academic program focused on collaboration, integration, and real-world problem solving.
The Center for American Women and Politics (CAWP), a unit of the Eagleton Institute of Politics at Rutgers, The State University of New Jersey, is nationally recognized as the leading source of scholarly research and current data about American women's political participation. Its mission is to promote greater knowledge and understanding about women's participation in politics and government and to enhance women's influence and leadership in public life.