Elizabeth Gore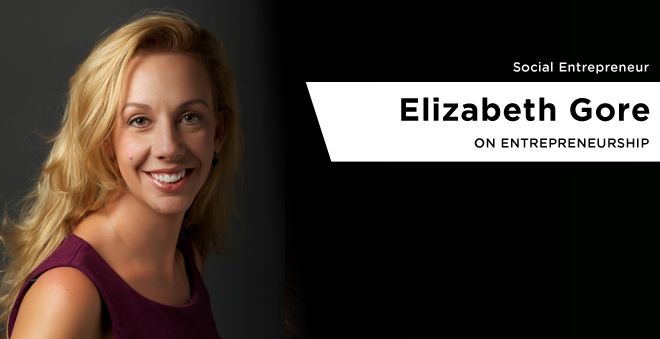 "I have found that entrepreneurship is the greatest spark for empowerment. It brings women together to find creative ways to champion for necessary change." 
Elizabeth's Selections
Curator's Statement: Elizabeth Gore on Entrepreneurship
Like all women I have many roles -- mother, daughter, wife, entrepreneur, global citizen, and champion for women. There is constant competition of my time between babies, blackberries, business, and boys (my husband). However, throughout my life, I have had the opportunity to see, and be the result of, the significant change that happens when women and girls are empowered. From my perspective, I have found that entrepreneurship is the greatest spark for empowerment. 
Like the following stories showcase, entrepreneurial thinking can bring mothers together to help other mothers, young women together to improve the economic opportunities for themselves and their communities, and all women together to find creative ways to champion for necessary change. The changemakers in this showcase share how they used entrepreneurship to transform their communities, and pave the way for future generations of women to find their own path to empowerment.‬ 
I also want to flag the smiles and humor that a lot of these women bring to the table, so I tried to add a little of my own. I hope my daughter will someday learn from the women highlighted in this series so she might shape this world for her children, and laugh a little along the way.
About Elizabeth Gore
As the first-ever Entrepreneur-in-Residence at the United Nations Foundation, Elizabeth Gore works with the United Nations and the Foundation to support innovation and entrepreneurial thinking. In her role, she chairs the UN Foundation's Global Entrepreneurs Council and builds global partnerships that positively affect the UN's most pressing humanitarian issues. Ms. Gore previously served as Vice President of Global Partnerships at the Foundation, and founded strategic grassroots efforts such as Nothing But Nets, Girl Up, and the Shot@Life. Additionally, she manages partnerships with Fortune 100 companies and with the Bill & Melinda Gates Foundation. Ms. Gore currently serves on the leadership councils of the Indiana University's Lilly Family School of Philanthropy and the annual CLASSY Awards. She serves on Dell's Global Entrepreneur-in-Residence Advisory Board and the advisory board of the UN's Refugee Agency (UNHCR) and SOMA, an innovative all-natural water filter company. Ms. Gore was named by People as one of the top 100 Extraordinary Women and is one of Fast Company's Most Creative People in Business. Ms. Gore has been featured on multiple media outlets including: ABC, CBS, CNN, MSNBC, FOX Business, Fast Company, Fortune, Glamour, The New York Times, People, and Time. She is a World Champion Equestrian, and has climbed Mt. Kilimanjaro with Summit on the Summit to raise awareness for the global clean water crisis on behalf of the United Nations. Ms. Gore is the mom of an unbelievable two year-old!
Get to Know
Elizabeth 
In addition the United Nations Foundation, learn more about Elizabeth and why she's involved in IMOW's Curating Change.
IMOW matters to me because... there is nothing else like it! This innovative museum showcases the important and unique stories of women and inspires people everywhere to learn, act, and change the world.
A woman that I admire is... My grandmother Opal.
People don't know that I can... rope cattle.
Take Action
In addition to the United Nations Foundation, learn which causes and organizations matter most toElizabeth Gore and how you can connect with them.
The Family Justice Center helps men, women, and children leave violent situations. In just the last few months, they have helped over a thousand people out of violence in Sonoma. The Center empowers family violence victims to live free from violence and abuse by providing comprehensive services, centered on and around the victim through a single point of access. Building on strong interagency collaboration, they protect the vulnerable, stop the violence and restore hope. 
Dell's approach to using technology to empower women helps translates business aspirations to reality. Dell's Women Entrepreneur Network is a unique community of women entrepreneurs from over eleven countries collaborating, connecting and learning, all of which is key to drive empowerment and success.
Entrepreneurs have the ability to challenge the status quo. I think the Skoll Foundation's mission to drive large scale change by investing in, connecting, and celebrating social entrepreneurs and the innovators who help them solve the world's most pressing problems truly is game changing.