Nilofer Merchant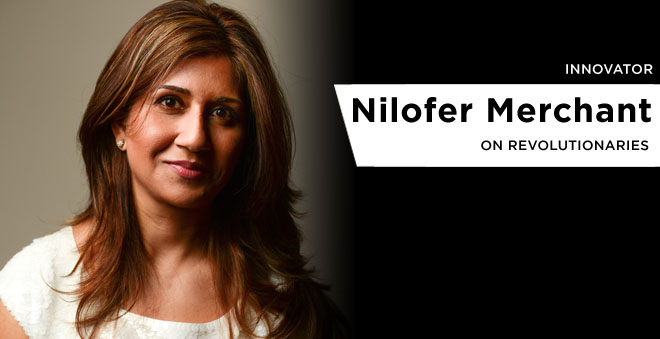 "To truly think differently we have to reframe power, enabling those who want, to create value – without gatekeepers or limitations. "
Nilofer's Selections
Curator's Statement: Nilofer Merchant on Revolutionaries
Most of us long to make a dent in the universe, to leave a world that's different and better than the one we were born into. However, short of being some singular giant, the only way that we could pursue this goal consciously and systematically has been by joining an institution – a company, the military, the government, or the church – and rising in its ranks until we acquire sufficient power to bend it to our purposes. The only problem is that these institutions were designed to empower those who are already in power. Many women face discrimination and glass ceilings within male-dominated institutions, so that by the time we get the power--assuming we get it at all--we've probably lost the fire. Or bought into the status quo. 
And, why is that? It's because of how power has worked. In Warren Bennis' book, Organizing Genius, he speaks of Steve Jobs' famous Macintosh team at Apple Computer. Jobs got people to give freely of their ideas in the service of what they believed to be a greater purpose. This team went above and beyond, because they had a vision of what computing could be, and by designing a great product they felt they were contributing something to humanity. But the invisible framework in Apple's story of creative genius is this: all the people had to be first be picked, employed. They had the "right" qualifications, they had already been vetted by the powers-that-be, and chosen because they were "the best". Too often, "the best" are comprised only of men. 
To truly think differently we have to reframe power. This goes beyond meritocracy; it is more of an "all together now" strategy: enabling those who want, to create value – without gatekeepers or limitations. That's why I chose these stories – they all reflect the women revolutionaries who are reframing the world outside of the boundaries of an institution. They show us that anybody – quite possibly everybody – can change the way we see the world.
About Nilofer
Having personally launched more than 100 products, netting $18 Billion in sales, Nilofer Merchant knows what it means to lead teams to invent the next big thing. From working with Steve Jobs at Apple, to defeating Microsoft in an epic industry battle, to advising the C-Suites of GE, IBM, and Logitech, she's got a world-class pedigree in knowing how to build market advantage. Recognized as a Best Business Book of 2012, her Harvard 11 Rules for Creating Value in the #SocialEra, published by Harvard Business Review Press, shares the formula for success in these modern and messy times.
Get to Know
Nilofer
Learn more about Nilofer and why she's involved in IMOW's Curating Change.
IMOW matters to me because... it is a place for women to creatively redefine the world they live in.
A mantra to live by... Courage is contagious. –Ghandi
I Exhibit Change by... Embodying it (or, at least … aiming to embody it).
Take Action
Learn which causes and organizations matter most to Nilofer and how you can connect with them.
Vital Voices is an organization that trains women around the world to mentor other women and girls to be strong leaders. While acknowledging structural barriers that exist for women, within their trainings Vital Voices promotes agency and emphasizes the power women have to shape the world they want to live in, something deeply important to me.
Girl Rising is a global campaign to increase access to education for girls around the world. Education has been instrumental in my own personal success, and I cannot imagine where I would be without it. By supporting Girl Rising, I am doing my part to ensure that someday, education becomes a right, and not a privilege for the world's women.
Since launching TEDx 4 years ago, TED has enabled many "ideas that matter" to be shared, allowing ordinary citizens to do what once required a huge media budget. I have always believed in making the world's tools and knowledge more accessible to everyone, and I think TED is an excellent example of that effort.