Speaker Series
Extraordinary Voices, Extraordinary Change
The International Museum of Women (I.M.O.W.) is proud to offer a series of public Speaker Series programs featuring thinkers and leaders from around the world who have made profound and unprecedented political, social and economic changes in the lives of women worldwide. These conversations and lectures highlight the speakers' accomplishments as well as the roles they have played in making a difference in the lives of women nationally and internationally. The speakers offer insights into the different struggles they have experienced inside governments, universities and international women's groups, as well as outside institutions as activists, filmmakers and writers.
---
PAST SPEAKERS
Aminatta Forna, Author and Activist

On January 26, 2011, The International Museum of Women, in association with the World Affairs Council of Northern California, hosted Aminatta Forna, in conversation with Clare Winterton, IMOW's Executive Director. Forna latest novel,The Memory of Love, depicts a deeply hopeful and universal story about love and human resilience.

Aminatta Forna was raised in Sierra Leone and the United Kingdom and now divides her time between London and Sierra Leone. She is the author of a novel, Ancestor Stones, a memoir, The Devil that Danced on the Water and her newest novel, The Memory of Love. 


The tortuous events of Sierra Leone's history have dominated Forna's writing. She is the daughter of a former Sierra Leonean cabinet minister and dissident, murdered by the state in 1975. In 2003, Forna helped build a primary school in her family's village of Rogbonko. Forna is a trustee of the Royal Literary Fund, sits on the advisory committee of the Caine Prize for African Writing and is a member of the International Museum of Women's Global Council.
---
Ingrid Betancourt, Author, Activist and former Colombian Senator

On October 28, 2010, the International Museum of Women (I.M.O.W.) hosted an evening with former Colombian senator and activist Ingrid Betancourt. In 2002, while campaigning as a candidate in the Colombian presidential elections, Betancourt was abducted by the FARC and held captive in the Colombian jungle for six and a half years before being freed in a dramatic 2008 rescue. Betancourt discussed her story as told in her memoir, Even Silence Has an End. Betancourt appeared in conversation with Jeanne Carstensen, managing editor of The Bay Citizen, a nonprofit news organization in San Francisco.

 To learn more about Ingrid Betancourt's political career, kidnapping and rescue, read this 2008 story from the museum's Women, Power and Politics exhibition,Kidnapping a Candidate: Ingrid Betancourt's Six-Year Ordeal.
---
Mahnaz Afkhami, Founder and President of the Women's Learning Partnership

On June 2, 2010, the International Museum of Women (I.M.O.W.) hosted an evening with leading women's human rights advocate Mahnaz Afkhami. Mahnaz Afkhami is the Founder and President of Women's Learning Partnership, Executive Director of the Foundation for Iranian Studies, and Chairwoman of the International Museum of Women's Global Council. Afkhami, exiled from Iran under threat of death during the Iranian Revolution, has worked as a leading advocate for women's rights internationally for more than three decades. (Podcast now available!)

From women's human rights in Iran, to the economic engagement of women in the Middle East and North Africa, to the growing use of technology in movement building, Ms. Afkhami spoke in conversation with I.M.O.W. Executive Director Clare Winterton about some of the most pressing issues for women in the Middle East today.
---
Nicholas Kristof, Pulitzer Prize-winning columnist for the New York Times

On Wednesday, October 14, 2009, the International Museum of Women (I.M.O.W.) and the World Affairs Council of Northern California in San Francisco proudly hosted an evening with internationally acclaimed journalist Nicholas Kristof. Nearly 1,200 people turned out for the event, which marked the kick-off for the launch of our Economica exhibition.

Nicholas Kristof is a journalist, author, and New York Times columnist dedicated to giving "a voice to the voiceless."  He has reported in 140 countries, receiving two Pulitzer Prizes for his coverage of China's Tiananmen Square democracy movement and Sudan's Durfurian genocide.

Kristof has also coauthored three books with his wife, Sheryl WuDunn.  Their most recent book, Half the Sky: Turning Oppression into Opportunity for Women Worldwide, has received wholehearted praise from humanitarians, activists, and journalists alike.  Kristof discussed Half the Sky in conjunction with I.M.O.W.'s newest exhibition, Economica: Women and the Global Economy.

Watch the Video>>
Listen to the Podcast>>

Nicholas Kristof appeared in conversation with Jane Wales, president and CEO of the World Affairs Council of Northern California.  Wales is also Vice President of the Aspen Institute and Co-founder of the Global Philanthropy Forum. She served in both the Carter and the Clinton Administrations, and in 2008, she chaired the Poverty Alleviation Track for the Clinton Global Initiative.
---
Dolores Huerta, co-founder of United Farm Workers

I.M.O.W. Global Council member Dolores Huerta appeared in conversation with Maria Echaveste on Wednesday, July 22, 2009. Listen to a podcast of this event.

Dolores Huerta is president of the Dolores Huerta Foundation, dedicated to community organizing. She co-founded the United Farm Workers with Cesar E. Chavez and is also an active member of the Fund for the Feminist Majority.

As the main negotiator for the UFW, she obtained many "firsts" that had been denied to farm workers: basic sanitation and clean drinking water in the fields, medical coverage, pensions, job security, seniority rights, rest periods, and paid vacations.

This lively discussion was led by Berkeley School of Law Lecturer and Senior Fellow Maria Echaveste. Echaveste is a former U.S. presidential advisor to Bill Clinton and White House Deputy Chief of Staff under the second Clinton administration. She is one of the highest-ranking Latinas to have served in a presidential administration. She is currently a Senior Fellow at the Center for American Progress and a co-founder of the Nueva Vista Group, a policy, legislative strategy and advocacy group working with non-profit and corporate clients.
---
Jessica Jackley, co-founder of Kiva

On Wednesday, May 27, 2009, I.M.O.W. hosted an evening with Jessica Jackley, co-founder of Kiva.org, the world's first peer-to-peer online microlending Web site. She appeared in conversation with Kate Lauer, an engaging expert in international microfinance and policy reform. Listen to a podcast of this event.

Kiva lets Internet users lend as little as $25 to specific developing world entrepreneurs, providing affordable capital to help them start or expand a small business. Kiva has been one of the fastest-growing social benefit Web sites in history, connecting hundreds of thousands of people through lending across over 150 countries.

Jessica first saw the power, beauty, and dignity of microfinance while working in rural East Africa with microenterprise development nonprofit Village Enterprise Fund on impact evaluation and program development. Sector-agnostic about social change, Jessica has worked for public, nonprofit, and private organizations including the Stanford Center for Social Innovation, Amazon.com, Potentia Media, the International Foundation, World Vision, and others.

Read the transcript of our Web chat with Jessica, which took place on Thursday, May 27, 2009 at 9:00am PDT.
---

Beatriz Merino
Latin America's first female prime minister, Dr. Beatriz Merino, has become an independent watchdog in her current role as Defensora del Pueblo or national ombudswoman of Perú. Since 2005 she has protected the rights of Perú's citizens--dedicating her "work to those who do not have a voice." She is a tireless advocate for the Peruvian people, legally able and willing to challenge the president, the courts or the police to preserve their rights and freedoms.
In 2003, Dr. Merino was the first woman named prime minister of a Latin American country. In governing Perú in that capacity, she vowed to uphold "democracy based on consensus (and) harmony." Recognized as a leader in women's issues, Dr. Merino served in the Peruvian Senate from 1990 to 2002, as a congresswoman from 1995 to 2000, presiding over the Women's Committee of the Congress of the Republic of Perú, and has written two books addressing issues concerning women and the law in her country.
Dr. Merino, a member of I.M.O.W.'s Global Council, has graduate degrees from the London School of Economics and Harvard Law School. Before embarking on a public service career, she was a senior partner at Merino and Reaño Attorneys at Law and senior specialist at the World Bank.
Dr. Beatriz Merino appeared in conversation with broadcast journalist Ysabel Duron on November 18, 2008. Listen to a podcast of this event.
---

Malalai Joya
Proclaimed "the bravest woman in Afghanistan" by the BBC, Malalai Joya is a true international heroine. She sprang to fame in 2003 at age 25 for speaking out against the ex-Mujahideen leaders who dominated Afghanistan's historic constitutional assembly, of which she was an elected delegate. She was called a "prostitute" and an "infidel" for having the courage to speak her mind. Joya has since survived attacks, threats of rape, four assassination attempts and now travels in Afghanistan under a burqa and with armed guards.
In 2005, Joya was elected to Afghanistan's national parliament, where as the youngest person elected, and one of the most popular, she continued to press her case for democracy and women's rights. However, in May of 2007 she was suspended for challenging her fellow representatives. Her suspension, currently being appealed, triggered international protest. She has been compared to Aung San Suu Kyi, the leader of Myanmar's democracy movement, and continues to serve as a passionate public voice for her people.
Malalai Joya appeared in conversation with Marilyn Fowler on July 16, 2008. Listen to a podcast of this special evening or read the transcript.
---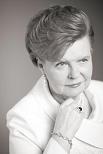 Dr. Vaira Vīķe-Freiberga
Described as exhibiting a combination of strength, determination, vision and care in her leadership style, Dr. Vaira Vīķe-Freiberga has demonstrated that women can be both "tough" and "compassionate." As President of the Republic of Latvia from 1999 to 2007, she worked to reduce corruption in Latvia, helped grow its market economy, secured Latvia's membership in NATO and the European Union, improved relations amongst minority groups and increased Latvia's standing as a dedicated democracy in the world.
Named Special Envoy on the Reform of the United Nations in 2005, Dr. Vīķe-Freiberga was an official candidate of the Baltic States (Latvia, Estonia and Lithuania) for the position of Secretary-General in 2006. She has received many medals and awards, including the 2005 Hannah Arendt Prize for political thought, as well as 27 Orders of Merit and ten honorary doctorates.
Dr. Vīķe-Freiberga appeared in conversation with CBS 5 anchor Sydnie Kohara on "Women, Power and Politics" on May 14, 2008. Listen to a podcast of the event.
---

Alice Walker
Alice Walker won the Pulitzer Prize, the first for an African-American woman, for her novel The Color Purple, which was made into an internationally popular film and is now a Broadway musical co-produced by Oprah Winfrey. Her other best-selling novels, which have been translated into more than two dozen languages, include By the Light of My Father's Smile, Possessing the Secret of Joy, and The Temple of My Familiar. Her most recent fiction work, Now is the Time to Open Your Heart, was published in 2004.
An activist and social visionary, Ms. Walker has been a participant in many of the major movements of planetary changes in the last half-century, among them, the Civil Rights Movement in the South and the Women's Movement. Her advocacy on behalf of the dispossessed has, in the words of her biographer, Evelyn C. White, "spanned the globe."
Alice Walker appeared in conversation with author and activist Jewelle Gomez on November 14, 2007. Listen to a podcast of the event.