Warrior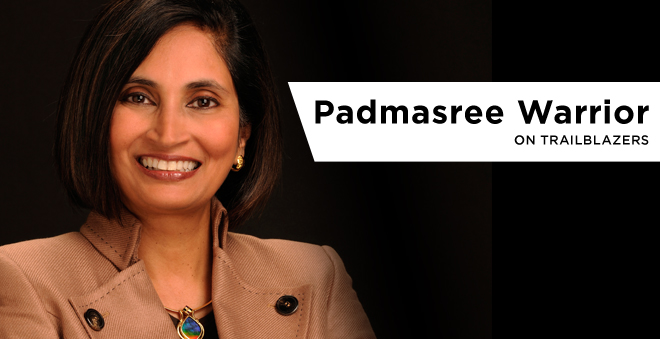 "Today's leaders must be influencers. The next generation's trailblazer is one with an ever-expanding sphere of influence who builds a community as she paves the way forward..."
Padmasree's Selections
Curator's Statement: Padmasree Warrior on Trailblazers
Throughout history women have always been trailblazers in society, and in the world of technology. For example, Ada Lovelace has been credited as the world's first computer programmer, spawning the field of computer science. Hedy Lamarr, widely known as a legend on the silver screen, co-invented a classified communication system in 1941 that prevented the interception of top secret military messages. And Grace Hopper, following in the tradition of Ada Lovelace, invented the compiler in 1949 and then developed the first English language data-processing compiler--the foundation of the COBOL computer language. These women blazed the trail for future innovators. Today, in addition to being pioneers and trail blazers, leaders often demonstrate additional traits.
Today's leaders must be influencers. The next generation trailblazer is one with an ever-expanding sphere of influence who builds a community as she paves the way forward. We have the technology that allows us to belong to multiple communities and trailblazers need to manage and lead these communities of interests.
In times of uncertainty and unpredictability, people look for transparency and openness. Authenticity is a key leadership trait in the future. In this context, women have to be women to be great leaders.
If the past was about solo contributions, the future is about collaboration. Innovation is multi disciplinary and trailblazers are those who recognize that leadership in the future is less about prescriptive instruction and more about sharing experiences.
My selections reflect the changing role of women as trailblazers and the new characteristics that emerge in using technology to positively impact their communities, and the world. I hope you enjoy these selections and help celebrate all the women who blaze their own trails.
About Padmasree Warrior
Cisco Chief Technology & Strategy Officer Padmasree Warrior is charged with aligning technology development and corporate strategy to enable Cisco to anticipate, shape, and lead major market transitions. She helps direct technology and operational innovation across the company and oversees strategic partnerships, mergers and acquisitions, the integration of new business models, the incubation of new technologies, and the cultivation of world-class technical talent.
Warrior joined Cisco in 2007 as the Chief Technology Officer (CTO) and co-led Cisco's worldwide engineering organization. Prior to that, she was executive vice president and CTO at Motorola. Under her leadership, Motorola was awarded the 2004 National Medal of Technology.
Warrior has been widely recognized for her creative, visionary leadership. In 2012, Forbes named her one of "The World's 100 Most Powerful Women," Business Insider called her one of the "25 Most Influential Women in Wireless," and the Aspen Institute honored her with its first Leadership in Science and Technology Award. The Wall Street Journal has called Warrior one of "50 Women to Watch," Fast Company included her among the "100 Most Creative People in Business," and The Economic Times listed her as "the 11th Most Influential Global Indian."
In 2007 she was inducted into the Women in Information Technology International Hall of Fame.
Warrior holds a bachelor of science degree in chemical engineering from the Indian Institute of Technology in New Delhi and a master of science degree in chemical engineering from Cornell University.
Get to Know
Padmasree Warrior
Learn more about Padmasree and why she's involved in IMOW's Curating Change.
IMOW matters to me because... IMOW is an incredibly powerful tool to share stories of success around the world and encourage women to connect with each other and find the ways that we can all bring about change for the better. The role of women continues to change as our world changes. Women have always been trailblazers, but there is even more opportunity for women to lead today. Opportunities can be created and we can help each other to break the mold and shape the future of women around the world. Our greatest opportunity is to reach across boundaries to get things done.
People don't know that I can... Paint. I can completely disengage from the technology world to immerse myself in a world of paint and canvas. It is an intense passion and I dedicate time to painting every week.
A mantra to live by… As a leader in the corporate world, I've found that the best way to earn recognition is to give credit away--freely, openly and often.