Do Women Change Elections?
Curator Masum Momaya introduces "Elections"
While most women around the world had the right to vote by the mid 20th century, only in the last few decades have there been a significant number of women elected at local and national levels. And there is yet to be a critical mass. Today, women still face many barriers to participating meaningfully and competitively as candidates for office. Still, each year ushers in more names to the list of "women who run."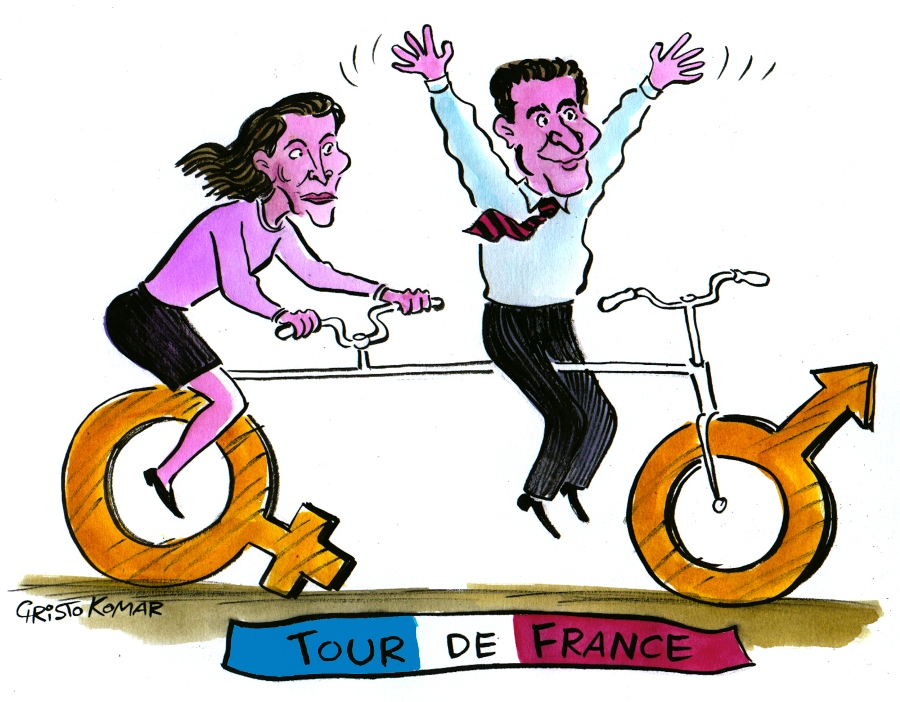 Christo Komarnitski and PoliticalCartoons.com
Although elections were once exclusively the domain of men, women now readily shake hands, kiss babies and speak at meeting halls and government chambers.
Women candidates are courageous and crafty. Many face threats of sexual slander, public shaming, private isolation and physical harm while on the campaign trail. Aside from the cultural biases women face, campaigning is "intense," as any candidate who has gone the distance will tell you, with safety and stamina being primary concerns, and substance and style not necessarily guaranteeing victory.
It costs a lot of money to run in and win elections. In a world where the majority of the world's women live in poverty, women face the additional burden of controlling much less of the economy. Although most campaigns don't require the millions of dollars needed to buy TV spots, or to fly between campaign stops, they can still be costly in terms of wages lost or domestic duties forsaken.
Money can also determine whether women are able to vote. In many countries, a voter registration card is required, and fees can be prohibitively expensive. Even with a voter card, getting to a polling station can be difficult. If a woman cannot walk or ride a bicycle, she may not have the money to pay for a bus or taxi to take her to cast her vote.
2008 was a banner year for elections in places as distant and different as Bhutan, Colombia, Egypt and Pakistan. The tiny Himalayan kingdom of Bhutan held its first-ever elections in which all adults were allowed to vote, with women playing key roles in the nascent democratic process. In Colombia, Ingrid Betancourt's six years of captivity ended when she was rescued from the guerilla group that kidnapped her during her presidential campaign.
Women in Egypt continue to push for transparency and accountability in their country's voting process under an authoritarian government that holds elections to placate dissent and rubber-stamp its legitimacy. Pakistan faces similar circumstances, where the most recent elections are what journalist Fatima Bhutto names the latest turn in a "game of revolving chairs."
Meanwhile, more women than ever are ensuring the integrity and transparency of elections as registrars, poll workers, bloggers and debate moderators, changing the voting process for the better.
Explore all the stories in this theme.