The Year of the Woman
Then and Now: Women in U.S. Politics in 1992 and 2008
1992 has been called "The Year of the Woman" in U.S. politics. Watch two exclusive video interviews with U.S. Senators Barbara Boxer and Dianne Feinstein (both of California) as I.M.O.W. looks back at this historic year and forward to the future.
I.M.O.W.
I.M.O.W.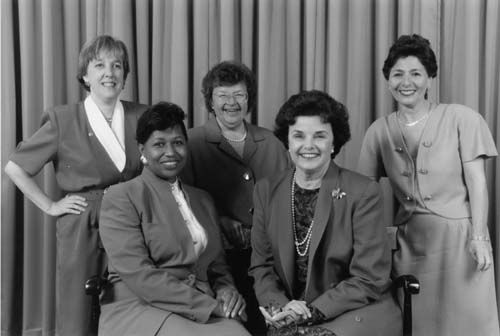 United States Government/ Public Domain
United States/Public Domain
Anita Hill and Ten Men
On October 11, 1991, Anita Hill, an attorney and law professor, stood before the ten male members of the United States Senate Judiciary Committee to speak about her experiences of sexual harassment by Clarence Thomas. Her testimony was part of confirmation hearings that would, just two days later, seat Thomas as one of the nine justices of the U.S. Supreme Court. Millions of viewers around the country watched on television as Hill faced the committee.
Patty Murray, a schoolteacher and state legislator from Washington, watched in disbelief as the committee members questioned Hills veracity about Thomas' sexual advances and innuendo. Murray found herself asking "Who's saying what I would say if I were there?" That evening, at a neighborhood party, as others expressed similar frustration, Murray announced, "You know what? I'm going to run for Senate."
1992: The Year of the Woman
Murray's reaction echoed the frustration of women around the country who felt that women's experiences of sexual harassment had been ridiculed. Women had been shut out of the highest-levels of political decision-making and had little influence over the public policy that would impact their daily lives. With widespread, grassroots support from her state, and new streams of funding for women candidates spawned by anger at Thomas' confirmation, Murray was elected to the Senate in 1992.
Joining Murray were two women several hundred miles to the south. Former San Francisco mayor Dianne Feinstein and 10-year U.S. House of Representatives veteran Barbara Boxer were elected to the two California Senate seats. Together with newly elected Illinois Senator Carol Moseley-Braun, these four women tripled the number of women in the U.S. senate to a whopping six, joining incumbent Senators Nancy Kassebaum of Kansas and Barbara Mikulski of Maryland.
Twenty-four first-term women were elected to seats in the House of Representatives that year, and female voters were said to have "carried" Bill Clinton to victory in the Presidential race. 1992 became known as "The Year of the Woman."
Abysmal Gains
Despite the gains in 1992, women's representation in the Senate, the "upper" house of the U.S. Congress, has been abysmally low. Rebecca Latimer Felton, the first woman to be sworn in to the Senate in 1922, served for merely a day, filling in during a special election. Seventy years later, in 1992, the number had only increased to six. In the Senate's 220-year history, only 35 out of 1,897 senators, or 1.58%, have been women.
In 2008, scholars studying "The Year of the Woman" have been quick to both brand it as a watershed year and place the electoral victories as achievements in a longer-term movement to gain political power for women. Mikulski, one of the original "bunch," denounced the label, explaining: "Calling 1992 the 'Year of the Woman' makes it sound like the 'Year of the Caribou' or the 'Year of the Asparagus.' We're not a fad, a fancy or a year."
Money Wins Elections
Historians trace the achievements of women in Congressional races in 1992 to 30 years of significant gains by women winning state legislature elections. They point to the role of women's political organizations such as The National Organization for Women, The National Women's Political Caucus, EMILY's List (Early Money Is Like Yeast), The Women's Campaign Fund and Wish List, who trained candidates and helped them raise money. Political organizers still cite fundraising as the most formidable barrier to women's electoral success. And women are fighting to change this.
"There is nothing enjoyable about raising money," says Senator Boxer. "I really wish campaigning in our nation's largest state wasn't so expensive. We have so many millions of people and television is so costly. I fully support public financing for campaigns because I believe it would increase public faith in our system and it would create greater participation in the process and it would keep the special interests really out of the money business, money to politicians."
Looking Ahead
Meanwhile, women senators offer their perspective, advice and optimism. "Whenever you're the first woman to open the door and cross the threshold there are a number of people that doubt whether you're tough enough, whether you can handle the job," explains Senator Feinstein. "I've always had to prove myself and I've always operated with the belief that no one is going to give me any kind of advantage. I have to fight for that advantage, if there's going to be one, myself."
Long-time senator Kay Bailey Hutchison also sees progress: "In previous years, when I have run for office, I always had to overcome being a woman. All I ever wanted was an equal chance to make my case, and I think we're getting to that point -- and that's the victory."
"I think it's becoming less and less true that women face prejudice," Senator Boxer adds. "I was elected to the Senate in what was called 'The Year of the Woman.' And having more women in the Senate really has made it easier for women to succeed in this Senate and, frankly, outside the Senate. Senator Feinstein and I each chair major Senate committees, and in the other chamber my friend and fellow Californian Nancy Pelosi became the very first female Speaker of the House. So I think times have changed in my lifetime and I don't feel that prejudice that I once did feel."
Successors
The two women from California who entered the U.S. Senate in 1992 have words of inspiration for their successors:
"Earn your spurs," says Senator Feinstein. "Be willing to learn. Begin at the local level: school board, town or city council, county board of supervisors. Develop a portfolio of expertise, something that you're good at, that the public is interested in, and that you've got solutions to."
Speaking to young women seeking her advice, Senator Boxer agrees: "I really think it's important that you want to do something, not that you want to be something. I would ask that young woman to find an issue that she cared deeply about and to work on that issue and make it her own. When you consistently fight for something you truly believe in, people will begin to see you as a leader and they will follow you and they will vote for you."
Will 1992-2012 be called "The Generation of Women?" It remains to be seen.
---
Read the full text and listen to the audio of Anita Hill's testimony.