Roots of Peace
Wangari Maathai and the Green Belt Movement
When Wangari Maathai became the first African woman to be awarded the Nobel Peace Prize in 2004, she also became the first Nobel laureate to make the link between keeping peace and conserving the environment. "Indeed," said Maathai, "the state of any country's environment is a reflection of the kind of governance in place, and without good governance there can be no peace."
Alan Dater and Lisa Merton/Marlboro Productions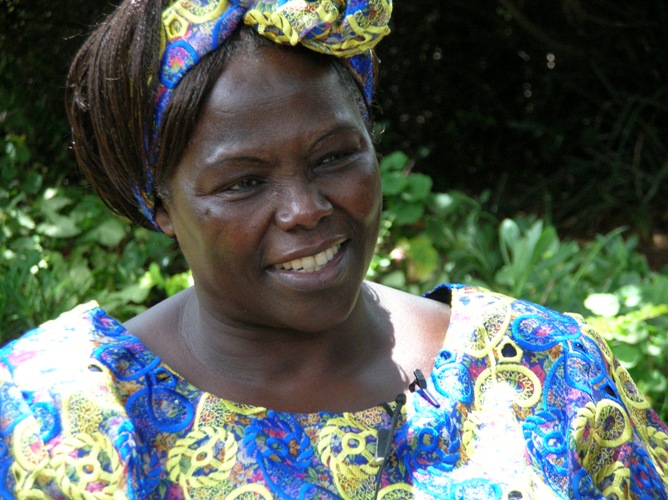 Alan Dater and Lisa Merton/Marlboro Productions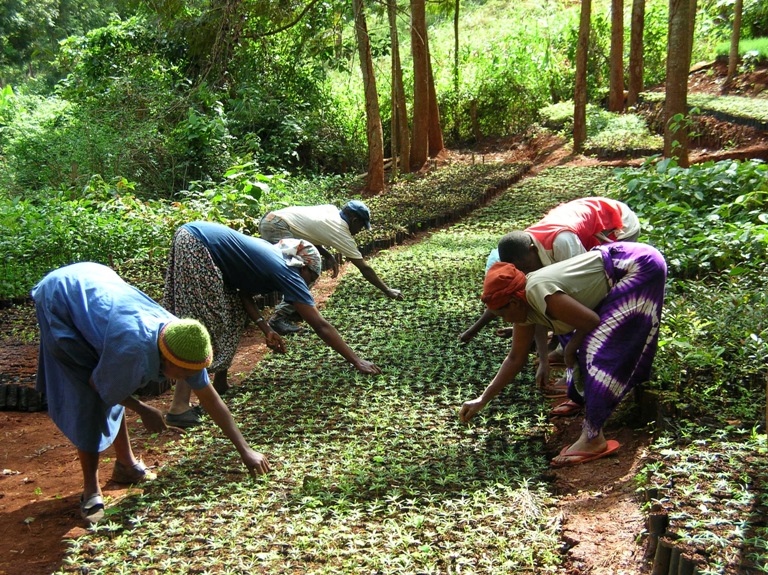 Alan Dater and Lisa Merton/Marlboro Productions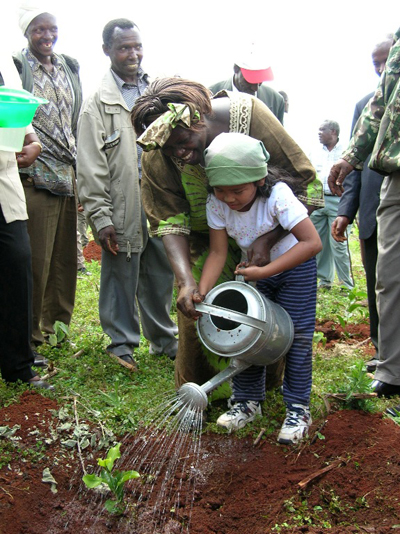 Alan Dater and Lisa Merton/Marlboro Productions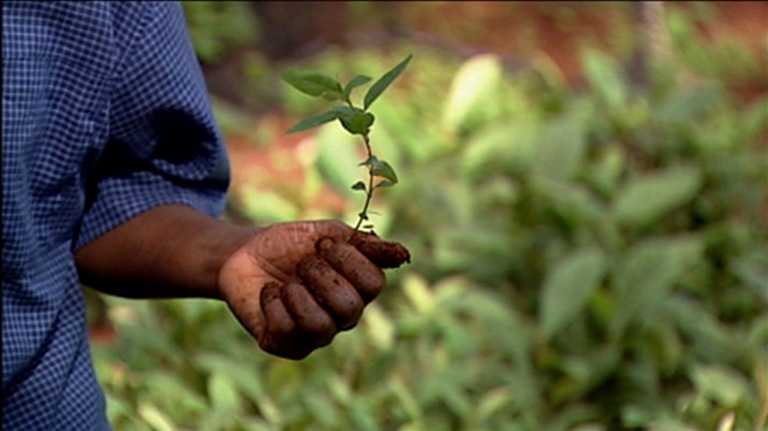 Alan Dater and Lisa Merton/Marlboro Productions
Wangari Maathai's Green Belt Movement is led by and for rural Kenyan women. What began with planting a few tree seedlings grew to forever reshape the political landscape of Kenya and the world. Maathai trained thousands of women on everything from water conservation to civic leadership, and to date, they've planted 35 million trees in a country devastated by deforestation. Along the way, they also helped overthrow a dictatorship.
Disappearing Forests
In 1977, Biologist Wangari Maathai answered the call of rural Kenyan women. Typically responsible for collecting firewood and growing food, these women were hit hardest by the effects of mass deforestation in Kenya. They saw their source for wood disappearing and their soil drying up and eroding.
Maathai's solution was to teach them to plant and raise new trees. The trees gave needed shade and kept the soil from washing away. As they grew, they would provide firewood and building materials as well as fruit to combat malnutrition. The trees also provided a rare income-generating opportunity for the rural women. Maathai's new grassroots organization, called "The Green Belt Movement," paid the women a small amount for each tree they planted.
Women organized, started tree nurseries and exchanged knowledge honed from years of experience gained from working with the land, becoming, what Maathai calls "foresters without diplomas."
Making Connections
The more Maathai investigated solutions to Kenya's environmental problems, the more she realized that these were only symptoms of a much larger cause. She says it was impossible to disconnect the country's natural resources from social problems, its economy and its politics.
"The issues and the problems that people were bringing to the table were symptoms of problems that needed to be addressed from the root. And so I kept going more and more towards the root. I began addressing politics, addressing democracy, conflict issues, rights of the vulnerable, of women and children."
Confronting Power
Maathai's activism began to make political waves in the country, often putting her, and her supporters, in danger. Targeted by Kenya's dictator Daniel arap Moi, Maathai was regularly arrested and jailed, even forced into temporary exile. During one demonstration, she was beaten unconscious by police.
But the movement had become strong, and momentum of Green Belt women's organizing, led by Maathai, started to turn the political tide. Maathai made it her personal mission to protect a strip of forest which was being carved up and auctioned off to the government's supporters. Women, men, students and the international community rallied behind her in such a force that they helped oust Moi in 2002.
That same year, Maathai ran for Kenya's parliament, winning her seat with 98 percent of the vote. The next year she was appointed Assistant Minister for the Environment, Natural Resources and Wildlife.
Trees for Peace
As a parliamentarian, she encouraged military personnel to plant trees around their barracks, telling them to "hold a gun in one hand and a tree in the other." The soldiers have taken up the environmental cause seeing the connection between defending territory and defending Kenya's natural resources.
Today, Maathai's environmental and human rights activism has grown beyond
Kenya's borders. The Green Belt Movement combats environmental devastation and promotes women's empowerment across Africa and around the globe.
---
For more information on Taking Root: The Vision of Wangari Maathai, visit takingrootfilm.com.