Films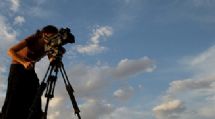 We'd like to share a list of some of our favorite films by powerful women, about powerful women. You'll find documentaries, features and even a TV miniseries. The women you'll meet range from presidents to factory workers; girls to great-grandmothers. They raise families, run countries, mourn, laugh and make change happen-sometimes all of these at once.
We're sure at least a few of these stories will be completely new to you. Whether you watch four, or all fourteen, these films will change the way you look at Women, Power and Politics.
---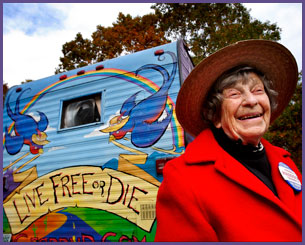 Run Granny Run, United States, 2007, Marlo Poras
Documentary, 92 minutes, In English
Doris "Granny D" Haddock says of her life: "It's never too late to raise a little hell." At the age of 90, she laced up her sneakers and walked 3000 miles across America to protest the influence of big money in elections. But for Doris, this was just a warm up.
At 94, she jumps at an unexpected chance to run for U.S. Senate. Doris and her motley crew of political aces and amateurs work against all odds and craft a feisty campaign that personifies the democratic ideals of a government of, by and for the people.
Smiling out from under a wide-brimmed straw hat, and traveling aboard a colorful, hand-painted motor home, this great-grandmother of 16 is anything but the image of a polished politician. But Granny's campaign is never about performance; it's about passion.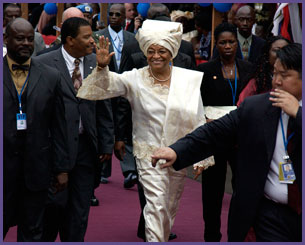 Iron Ladies of Liberia, Liberia/United States, 2007, Siatta Scott-Johnson and Daniel Junge
Documentary, 60 minutes, In English
Many are watching Ellen Johnson-Sirleaf, the president of Liberia, as an example of a woman leader in an extraordinarily tough position. If she succeeds, perhaps other women in her position can move beyond the label "women leaders," to be, simply, "leaders."
After fourteen years of civil war, Liberia is a nation ready for change. Johnson-Sirleaf won a hotly contested election with the overwhelming support of women across Liberia to become the first elected female head of state in Africa. Since taking office she has appointed other extraordinary women to leadership positions in all areas of government, including the Police Chief and the ministers of Justice, Commerce and Finance.

Iron Ladies of Liberia gives behind-the-scenes access to President Sirleaf's first year in government, providing a unique insight into the workings of a dynamic, newly elected African cabinet.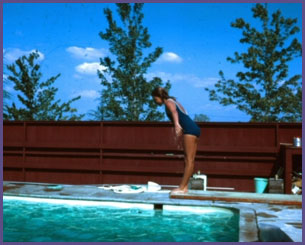 La Hija del General, Chile, 2006, María Elena Wood
Documentary, 59 minutes, In Spanish with English subtitles
The hija, or daughter is Michelle Bachelet, President of Chile. The General is her late father, Alberto Bachelet, imprisoned after Pinochet seized power in 1973. This film is moving story of the personal and the political, told, in part, through the General's letters to his family.
We follow Michelle Bachelet, a once anonymous doctor and socialist militant, as she travels through Chile on the campaign trail, discovering some of the forces motivating her as well as examining the high points in her personal and family life. Despite being a socialist, a single parent, and an agnostic, Dr. Bachelet succeeds in becoming the first woman President of Chile, a conservative Catholic nation, and captures the attention of the world's press with her singularly feminine way of being political.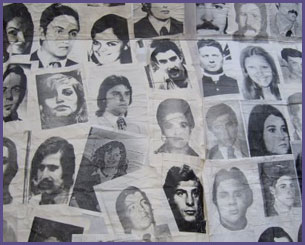 Las Madres, The Mothers of the Plaza de Mayo, Argentina, 1985, Susana Muñoz and Lourdes Portillo
Documentary, 64 minutes, In Spanish with English subtitles
The worst thing that can happen to a mother is to lose a child. To have one disappear without a trace is agony without end. During the 1970s and 1980s in Argentina's "Dirty War," 30,000 sons and daughters disappeared. In a society where women are expected to be silent, Las Madres chronicles Argentinean mothers who demanded to know the fate of their "disappeared" children.
As individual mothers find one another, their group begins to grow, and private tragedy is transformed into a powerful activist movement. We watch as hundreds of mothers gather each week in the Plaza outside the presidential palace. Dressed in black, they carry their children's names. They march as an ever-present reminder that their, and their country's, need for an answer will never disappear.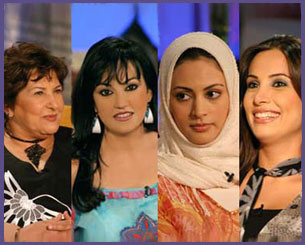 Dishing Democracy, Netherlands/United States, 2007, Bregtje van der Haak
Documentary, 60 minutes, In English & Arabic with English Subtitles
"Dishing" is a pun on "satellite dish" and the English slang word for "gossiping."
Sometimes powerful political action comes in a surprising package-like "Kalam Nawaem," or "Sweet Talk," a four-woman talk show on Arab satellite TV. Unlike official government programming, satellite TV is cut loose from national borders, state control and censorship, and the hosts of Kalam Nawaem take full advantage, discussing taboo subjects like sex, polygamy, wife battering, and equality between men and women.
The cameras take us behind-the-scenes to meet the four vibrant and outspoken co-hosts, each from a different Arab country and background, as well as out onto the street and into women's homes to capture viewer reactions. It's an exciting, fast-paced portrait of the power of sharing ideas across borders-women talking to women. As one host puts it: "I'm not interested in politics, I'm interested in people."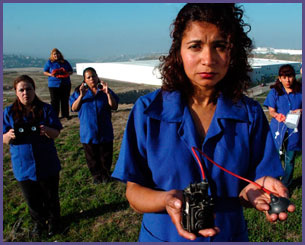 Maquilapolis: City of Factories, 2006, Mexico, Vicky Funari and Sergio de la Torre
Documentary, 68 minutes, In Spanish with English Subtitles

Maquilapolis tells the story of women who work in the many factories, or maquiladoras, that line the US-Mexico border. In a unique twist, the filmmakers trained the film's subjects in video production so that they could tell their own stories.
One is Carmen, a single mother of three. She lives in a shack built out of recycled garage doors, in a neighborhood with no paved streets, no sewage lines and no electricity. She must work all night, and care for her children all day. At 29, she suffers from kidney failure and anemia resulting from her years of factory work. Carmen earns six dollars a day.
Each of the women is dealing with the hardships of environmental toxins, labor rights abuse, infrastructure and housing issues, and women's rights. These are the real faces of globalization.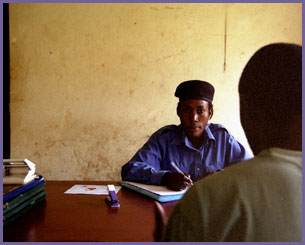 God Sleeps in Rwanda, United States/Rwanda, 2004, Kimberlee Acquaro and Stacy Sherman
Documentary Short, 28 minutes, In English
Over 100 days in 1994, one million of Rwanda's people were killed. So many were men, the population left behind was now 70 percent female. Rwanda's women were given an extraordinary burden and an unprecedented opportunity. Girls are attending school in record numbers, and women now make up a large part of the country's leadership.
God Sleeps in Rwanda profiles five courageous women. Each was orphaned in the genocide, several were raped, and one must deal with the HIV she contracted as a result. We follow them as they rebuild their lives, redefine women's roles in Rwandan society and bring hope to a wounded nation.
Heart-wrenching and inspiring, this powerful film is a brutal reminder of the consequences of the Rwandan tragedy, and a tribute to the strength and spirit of those who are moving forth.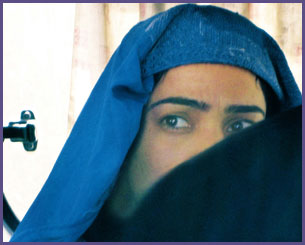 Enemies of Happiness, Denmark/Afghanistan, 2006, Eva Mulvad
Documentary, 58 minutes, In English, Farsi & Pashto with English subtitles
How do you introduce democracy in a country where votes are for sale and women cannot leave their children to vote? Malalai Joya is one example. In 2005, this 27-year-old Afghani woman ran in her country's first democratic parliamentary election in over 30 years. A survivor of repeated assassination attempts, she spreads her message surrounded by guards. Joya's courage and conviction have made her into a folk hero to the women of her remote desert province. As the film eloquently reminds us, making change takes more than Western soldiers and diplomats.
Enemies of Happiness follows a radical freedom fighter and a land that is changing. But more importantly it is a film about personal courage and the belief that the ordinary person not only can, but will make a difference.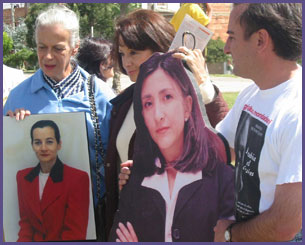 The Kidnapping of Ingrid Betancourt, United States/Colombia, 2003, Victoria Bruce and Karin Hayes
Documentary, 76 minutes, In Spanish with English subtitles
In February 2002, the presidential campaign of Colombian Ingrid Betancourt came to a sudden halt when she was kidnapped by the Revolutionary Armed Forces of Colombia. (FARC) This film is the story of her courage to fight political corruption, her determination to survive in captivity, and her anguished family's efforts to free her and keep her campaign alive.
Through the use of radio interviews taped before she was abducted, remarkably, Betancourt narrates her own story. It is a riveting and unsettling tale that reveals yet another way a woman's family can be affected when she decides to run for office. Watching the interviews with her desperate, grieving husband and two young children, we feel an added chill, knowing that six years later they are still waiting. As of April, 2008, Ingrid Betancourt still remains in captivity.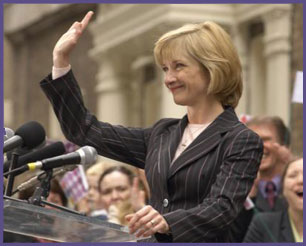 The Amazing Mrs. Pritchard, United Kingdom, 2006, Sally Wainwright
Feature, TV Miniseries, 364 minutes, In English
How many times have your said to yourself: "I could do a better job running this country!" The Amazing Mrs. Pritchard is a funny, smart, rollercoaster ride through the ultimate "what if?"
Ros Pritchard, a suburban grocery store manager, is fed up with politicians. On a whim, she decides to run for election herself, and ends up Prime Minister. She's a breath of fresh air: An ordinary person who speaks her mind. In no time she is leading a feminist revolution in British politics, as like-minded women all over the country follow her example to run for Parliament.
Once in office, Ros must still oversee her home, wayward children and husband while she guides her country through international crises. When secrets are revealed, she is forced to choose: Family or Power?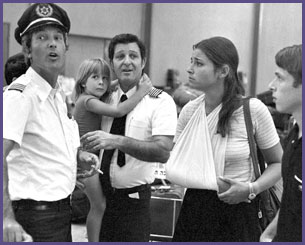 My Terrorist, Israel, 2002, Yulie Cohen Gerstel
Documentary, 58 minutes, In Hebrew & English with English subtitles
My Terrorist is filmmaker Yulie Cohen Gerstel's personal narrative of her journey to forgiveness. We experience the pain of the Middle East conflict through the story of one woman and one man.
Gerstel, an Israeli, first met Fahad Mihyi, a Palestinian, in August, 1978, when Mihyi pointed a machine gun at her during a terrorist attack. She was wounded; but a friend and colleague was killed.
In a remarkable twist of faith, twenty-three years later, Gerstel began questioning the causes of violence between Israelis and Palestinians. She finds and meets the man who almost killed her, and tries to get him released from prison. It was her goal to stand up as a survivor and call for reconciliation on each side. Gerstel's poignant documentary is a moving testimony of human compassion and a call for peace.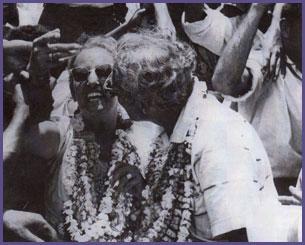 Thunder in Guyana, United States/Guyana, 2003, Suzanne Wasserman
Documentary, 50 minutes, In English
Director Suzanne Wasserman had a readymade story to tell in her first film. Her cousin, Janet Rosenberg, a white, Jewish woman from Chicago, was the president of the South American nation of Guyana, and considered the mother of her country by the largely African- and East Indian-Guyanese population. Where to begin?
Janet Rosenberg met and married Guyanese Cheddi Jagan in 1943, and the couple set off for his homeland to start a socialist revolution. For over half a century they fought against colonial rule and exploitation-despite imprisonment and the intervention of world figures including Winston Churchill and John F. Kennedy. In 1997, Janet Jagan succeeded her husband as president, becoming the first foreign-born and first woman to lead the country. Thunder in Guyana is an unlikely and amazing portrait of a country-and a family's-history.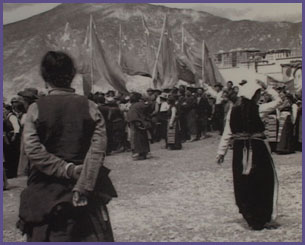 Women of Tibet: A Quiet Revolution, United States/Tibet, 2006, Rosemary Rawcliffe
Documentary, 58 minutes, Tibetan & English with English subtitles

A Quiet Revolution chronicles one of the great, but little-known, movements of non-violent resistance in modern history. In 1959, 15 thousand unarmed Tibetan women gathered to protest a decade of forced occupation by the Chinese, an event that came to be known as "The Women's Uprising."
Forty years later, they live in exile in India, and struggle to preserve their language, religion and culture in hopes of someday returning home. We hear the unique perspectives of three generations of women: Some who took part in the protest, others who were only girls at the times, and still others who were born and raised in exile.
Living with them in exile is their spiritual and political leader, His Holiness the Dalai Lama. He gives his perspective on the women he calls"Phamo" -"Heroes."
Amu, 2005, India/USA, Shonali Bose
Feature, 102 minutes, In English, Bengali, Hindi & Punjabi, with English subtitles
Amu tells the story of a tragic moment in Indian history through the fictional tale of Kaju, a 21-year-old Indian-American woman. All that Kaju knows about her past is that she was adopted. When she travels back to India to meet her relatives, she discovers much more than she was seeking-the hidden life and buried memories of Amu, her original name.
Amu and her birth parents were casualties of the bloody riots that erupted after Indira Gandhi was assassinated by her Sikh bodyguards in 1984. In retaliation, thousands of Sikhs were killed, including Amu's father. Her mother, unable to care for the three-year-old Amu, gives her to a social worker, who adopts her.
Amu is the story of women helping women to heal the physical and emotional wounds of political upheaval.