Women Mean Business

Women Mean Business
The Key to Economic Recovery is Investing in Women
Women will be crucial to achieving a full economic recovery from the current recession, says I.M.O.W. Global Council member Irene Natividad, president of the Global Summit of Women, a summit for women leaders on best practices in advancing women's economic opportunities worldwide. Natividad has long been instrumental in increasing the representation of women in politics and business and was elected to chair the National Women's Political Caucus in 1985.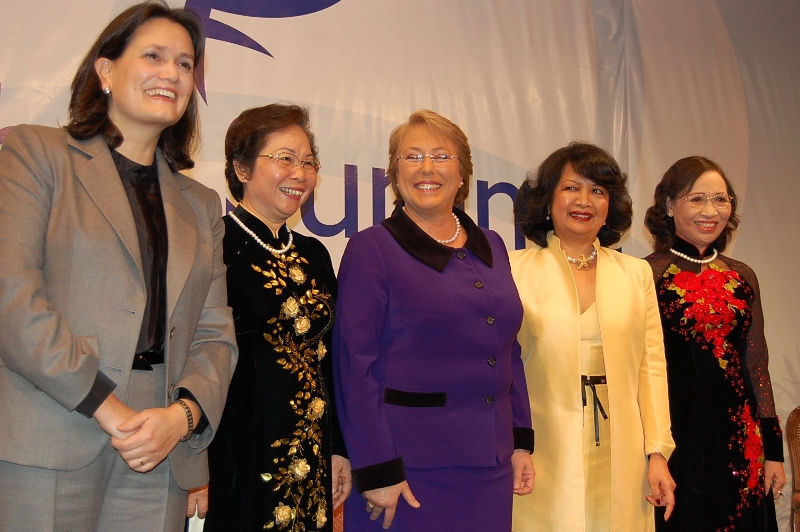 In all the talk about tackling the economic crisis, governments are missing one critical and fundamental factor: the centrality of investing in women entrepreneurs and workers. A global economic stimulus for women is essential for both short-term economic recovery and long-term economic growth. It also holds the potential to catalyze a lasting global shift in women's political participation and leadership.
This idea is not a fringe one--it is beginning to attract mainstream institutional support. Lars H. Thunell, CEO of the International Finance Corporation--the private sector arm of the World Bank--recently stated that "The best stimulus for the economy is to invest in women entrepreneurs." That remark may seem hyperbolic to some economists, but it's reflective of both the growing tide of women entrepreneurs and workers worldwide, and the proven fact that increased earnings among women result in better healthcare and education for families and entire communities.
The emerging consensus about the importance of investing in women is reflected in the United Nations' now widely accepted precept that upgrading women's economic status is paramount to long-term sustainable development. There is also a growing belief that such investment in women may be crucial to short-term global economic recovery.
Women Entrepreneurs: An Engine for Economic Recovery
The rapid growth of women business owners means that they will play a major part in spurring economic recovery. Within the last two decades, women's business ownership has grown dramatically; women own everything from small and medium-sized enterprises to tiny businesses called "microenterprises" in every corner of the world. In the United States alone, 40% of all privately held firms are now women-owned, and women now comprise the majority of new U.S. small business owners. According to the Center for Women's Business Research, those businesses generate $2 trillion in annual revenues, and employed 13 million people last year.
In Europe, one in every three small businesses is owned by women. In Japan, the world's second largest economy, it's one in four, and in China, one in five. In every corner of the world, women have come to micro-entrepreneurship in majority numbers, catapulting millions of families out of poverty.
Since small businesses form the backbone of every economy in the world, the fact that women own a growing number of those businesses indicates that governments and policy makers need to put women center-stage as they tackle the economic crisis. Right now, government-sponsored stimulus packages around the world are focused on infrastructure projects that are meant to generate jobs. Some of those funds should instead be targeted at buttressing small businesses that depend on loans to survive and thrive, particularly enterprises owned by women, which have more tenuous lifelines because they are generally given less access to credit. If women business owners are not at the heart of any economic stimulus program, economic recovery will be hindered.
Women Workers: The Fuel for Long-Term Economic GrowthIn addition to women's growing economic clout as entrepreneurs, women also play a pivotal role in the global economy as the world's emerging workers. Right now, women make up 30-50% of the paid workforce in every corner of the world, and those numbers are growing. More women are joining the workforce because of the simple need for an increased family income which forces many to seek employment outside the home and as a result of increased education and training which makes women more marketable. In Europe, Japan and South Korea (all of which are facing a rapidly aging workforce), training women for the jobs of the present and the future is pivotal to the survival of major economies. At a meeting of the National Association of Corporate Directors, one CEO made the case for hiring and training women by pointing out that his company's "baby boomer" senior managers--mostly men--will all retire at the same time, threatening the company's viability. His statement underscored stark reality that developing women's business leadership is vital to a competitive 21st century workforce.
Economic Power = Political PowerAn economic stimulus for women has the potential to transform not only our economic outlook, but our political landscape as well. Women's increased economic clout has granted them a more powerful political 'voice'. In Rwanda, a country best known for genocide that killed so many of the country's men and boys, women now own 41% of the nation's businesses. This was a direct result of women taking over farms and small enterprises in the absence of their men in order to survive. Their success in doing so moved one minister to state that the Rwandan economy recovered "on the backs of its women." Women's influence in Rwanda's economic recovery led to their increased political influence. Rwanda is now the only country in the world where women parliamentarians, at 55%, form the majority, and many say that it's a direct consequence of their growing economic power.
A similar parallel may be found in the U.S., where women's participation in the workforce grew dramatically from 29.6% in 1950 to 49.1% in 2008, according to the Bureau of Labor. Women are projected to comprise the majority of workers in 2009, due to massive lay-offs of men in the manufacturing and construction industries. This increase in American women working outside the home has coincided with their emergence as the majority of U.S. voters. Not only are more of them casting votes at the ballot box, they are also voting independently from their men - a continuing political fact called the 'gender gap,' which was first evinced in 1980. Increased discretionary income has also enabled American women to contribute to political candidates, fueling the growth of fundraising organizations such as EMILY's list, which has supported female Democratic Party candidates to the tune of $200 million in its two decade history, showing that women's emerging economic muscle can spill over to politics.
In Norway, 75.3% of women work outside the home and 36.1% of parliamentarians are female, creating a critical mass of lawmakers that have passed numerous laws affecting women's lives positively. One recent well-publicized mandate required all corporations to meet a 40% goal of female-held directorships on their boards within a two-year period. Not only did Norwegian companies meet this goal, they surpassed it. While there may not be direct causality, these three countries on three different continents show that political power grows in tandem with economic independence among women.
Conclusion: The Case for a Global Economic Stimulus for WomenWomen are bringing increased income home to their families and creating jobs through the businesses they run. While governments and private sector leaders discuss new economic models, they should not forget that there are new economic players--namely, women--who are already transforming local and national economies. Women are critical to economic recovery, both as entrepreneurs and workers, and so it is essential that they are at the heart of stimulus packages crafted by governments worldwide.