CLIO Talks Back

Karen Offen
United States
I.M.O.W.'s debut blog, Clio Talks Back, will change the way you think about women throughout history! Be informed and transformed by Clio Talks Back, written by the museum's resident historian Karen Offen.
Inspired by Clio, the Greek muse of History, and the museum's global online exhibitions Economica and Women, Power and Politics, Karen takes readers on a journey through time and place where women have shaped and changed our world. You will build your repertoire of rare trivia and conversation starters and occasionally hear from guest bloggers including everyone from leading historians in the field to the historical women themselves.
Read the entries, post a comment, and be inspired to create your own legacies to transform our world.
---
When Political Women are not so caring: Ana Pauker, the Dragon Lady of Romania
2008-06-23 22:44:10.000
Clio has observed that not all women in political life have inevitably been compassionate or caring. Take the case of Ana Pauker (1893-1960). Pauker became a force in the Romanian Communist Party and subsequently Romania?s foreign minister in the late 1940s.

Clio turns to historienne Ann Taylor Allen, for a glimpse at Pauker?s career.

?Perhaps the only woman who forced her way into the power elite of a communist state through her own efforts, and not by riding the coattails of male relatives, was the Romanian Ana Pauker. Born as Hannah Rabinsohn into an orthodox Jewish family in 1893, Pauker became a communist party member and activist in the 1920s. Between 1940 and 1944, Pauker lived in exile in Moscow, where she became the leader of the Romanian communist community there. She re-entered Romania when Soviet forces occupied it in 1945, and, after the communist seizure of power, became the country?s foreign minister. In 1948, Pauker?s portrait appeared on the cover of Time captioned ?The Most Powerful Woman in the World? [20 Sept. 1948].

?In Romania and throughout the world, she acquired the reputation of a fanatical Stalinist who would do anything ? including denounce her own husband to the police ? to carry out her leader?s dictates. In fact, as the historian Robert Levy points out, Pauker opposed some Stalinist policies, including the forced collectivizaion of Romanian agriculture, and we do not know why her husband became a victim of Stalin?s purges. But the demonic image that she acquired expressed the fear and hatred that the spectacle of a powerful and ruthless woman evoked. Pauker fell from power when she and her faction were expelled from the Romanian Communist Party in 1952, and she died in 1960.?

Source: Ann Taylor Allen, Women in Twentieth-Century Europe (Houndmills: Palgrave/Macmillan, 2008), pp. 98-99. See also Robert Levy, Ana Pauker: The Rise and Fall of a Jewish Communist (Berkeley: University of California Press, 2001).

---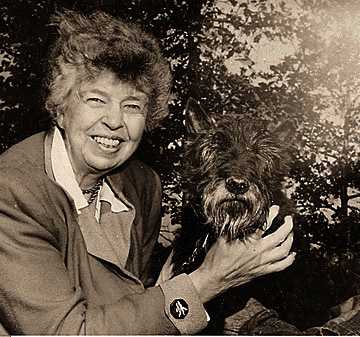 accessed via Google images
Eleanor Roosevelt and her dog Fala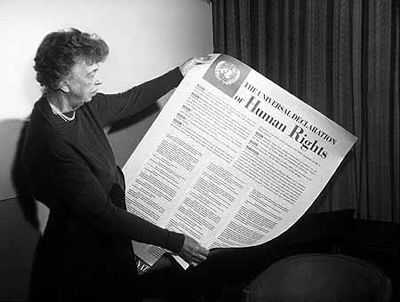 accessed via Google images
Eleanor with a copy of the Declaration of Human Rights
Guest Blog: Eleanor Roosevelt and her tea table
2008-06-19 12:29:54.000
After more than a decade as First Lady during the presidency of Franklin D. Roosevelt, Eleanor Roosevelt (1884-1962) embarked on a new life as a widow and a new career as a humanitarian leader. President Truman appointed her to the U.S. delegation to the United Nations.

In the course of the 1946 General Assembly meeting in London, Eleanor learned important lessons about the role of gender in politics. Appointed to Committee Three (humanitarian, educational, and cultural questions), she discovered that it had the potential to become one of the most important committees. In that committee she took a leading role in drafting the U. N. Declaration of Human Rights.

Like so many other women in history, Eleanor Roosevelt understood that many issues could best be discussed and resolved around a table, in her case a tea table. In this excerpt from her autobiography, she explains how she navigated:

?During the entire London session of the Assembly I walked on eggs. I knew that as the only woman on the [U.S.] delegation, I was not very welcome. Moreover, if I failed to be a useful member, it would not be considered merely that I as an individual had failed but that all women had failed, and there would be little chance for others to serve in the near future.

?I tried to think of small ways in which I might be more helpful. There were not many women on the other delegations, and as soon as I got to know some of them I invited them all to tea in my sitting room at the hotel. About sixteen, most of them alternate delegates or advisers, accepted my invitation. Even the Russian woman came, bringing an interpreter with her. The talk was partly just social but as we became better acquainted we also talked about the problems on which we were working in the various committees. The party was so successful that I asked them again on other occasions. I discovered that in such informal sessions we sometimes made more progress in reaching an understanding on some questions before the United Nations than we had been able to achieve in the formal work of our committees.

?As a result, I established a custom, which I continued throughout the years I was connected with the United Nations, of trying to get together with other nations? representatives at luncheon or dinner or for a few hours in the evening. I found that often a few people of different nationalities, meeting on a semisocial basis, could talk together about a common problem with better results than when they were meeting officially as a committee.?

Source: Eleanor Roosevelt, The Autobiography of Eleanor Roosevelt (New York: Da Capo Press, 1992; orig. ed. 1961), pp. 305.



---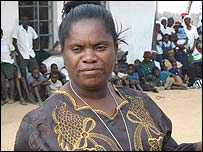 Google Images BBC.co
Betty Makoni
Clio is inspired by women who see a problem and take action
2008-06-10 17:57:58.000
Last month Clio joined friends in San Francisco to celebrate Betty Makoni, a brave and determined activist from Zimbabwe who received the 2008 Ginetta Sagan Award for Women?s and Children?s Right, in conjunction with Amnesty International USA.

Betty has established a Girl Child Network to empower girls and young women by forming clubs in which they can come together to confront widespread sexual and domestic violence in their own homes, schools, neighborhoods, and throughout the country. According to Makoni, the extent of the sexual violence problem is scarcely imaginable, and not limited to what happens within the household -- and the AIDS epidemic makes the problem far worse. Betty Makoni has broken the silence that surrounded sexual violence and has created a space in Zimbabwe's civil society for these problems to be exposed, debated, and confronted ? by girls and young women themselves. For this she has been arrested, threatened, and yet she is not intimidated. She has a mission that makes a huge difference.

This excerpt from a speech Betty made to the Global Philanthropy Forum in 2003 gives the substance of her mission:

?We are not trying to confront any extraordinary issues here. Only issues in the home, issues in the community, and issues in the school. I come from Zimbabwe. To be realistic, but not sounding very strange, our situation is a little bit chaotic. One in five adults are HIV positive. 3,000 deaths due to HIV/AIDS per week. 80 percent unemployment. 25 percent of my girls are out of school. And sometimes a day hardly passes by without a girl reporting rape. . . .

?As a teacher, I saw it happening. And I really felt it coming. That unless we start challenging the systems that are currently in existence and come up with an activist, development organization that supports and helps young girls to develop, there is going to be continuous gender imbalance in our society.

?Now, I?m not here to leave a negative picture about my country. I?m here to actually demonstrate that nothing is impossible. I?m one of the visionary activists that emerged as a new breed of women. I?m only aged 32 [Clio: in 2008 Makone turned 37 - still a very young woman].

?Rape, for a long time, has been an issue that was swept from under the carpet. Even as we graduated from universities, empowered academically, educationally, and economically as women, we felt it a taboo area to explore. Women?s organizations, I should acknowledge a lot of work they did, but they forgot to address the issues affecting young girls at the development states.

?Our organization started with a girls? club in 1998. I was the teacher who saw the girls being jeered at. I was the teacher, who was really moved when a male teacher said, ?You see all these girls, they are my wives.? Then I wondered, they were all under 15-years old. How could they be his wives, because he had simply had sex with them? That was a nightmare to me. And something had to be done.?

?The Girl Child Network came into existence on 21 March 1999. . . .?

Betty Makone has taught her girls that they can keep predatory men at bay by invoking the ?one-meter rule? -- which means ?don?t come any closer than that without my permission.? She has taught them to respect themselves.

Clio reminisces: The innovative campaign begun by Betty Makoni in Zimbabwe reminds Clio of an equally important series of campaigns in nineteenth-century England, headed by Frances Power Cobb. Beginning in the 1860s, she challenged ?the divine right of husbands,? and exposed what family life was really like for wives and daughters within the supposed sanctuary of the family. Her campaign also raised important questions about male use and abuse of alcohol, which all too often lay behind the violence and rape perpetrated on women and children in domestic settings. It also brings to mind 20th century campaigns launched by women against government-sanctioned prostitution, the traffic in women and children, and much more recently, the campaigns against female genital mutilation.

Clio believes that if we can address and resolve these issues of sexual violence, the world will become a more peaceful place. And girls, aware and empowered, can become the remarkable, responsible adults they are capable of being. Knowing that others have gone before us should provide inspiration to put a stop to the abuse of girls and women, whether sexual,intellectual, or economic, once and for all.

Source: http://www.idex.org/article.php?id=42, http://www.amnestyusa.org/ginettasaganfund/pdf/saganaward2008pressrelease.pdf



---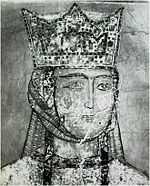 Google images
Queen Tamara
Clio contemplates the royal splendor of Queen Tamara of Georgia (reigned 1184-1213)
2008-06-06 14:41:16.000
Tamara, Queen of Georgia (on the Black Sea), was by all accounts a highly successful ruler. According to the Encyclopedia Brittanica, (Clio is not yet well acquainted with Wikipedia), her ?realm stretched from Azerbaijan to the borders of Cherkessia, from Erzurum to Gandzha (Kirovabad) forming a pan-Caucasian empire, with Shirvan and Trabzon as vassals and allies.? This golden age of Georgia ended with the ensuing Mongol invasions, but was celebrated in an epic poem, ?The Knight in The Tiger?s Skin,? by Shosta Rustaveli.

Clio finds the queen?s story very intriguing, especially with respect to appearance and body adornment. She rediscovered it when reading the Memoirs of Bertha von Suttner (English ed., 1910). Von Suttner spearheaded the movement for peace and disarmament in the years preceding World War I and received the Nobel Peace Prize in 1905. She and her husband had spent a number of years living in Georgia, and to support themselves they had embarked on translations of Rustaveli?s epic into German and French. Regrettably these translations were never published in their lifetime.

Here is Bertha?s account of Queen Tamara and her splendor, no doubt drawn from this epic poem:

?The Georgians look back on a history extending over twenty-three centuries; their first king, Phamawaz by name, was elected three hundred and two years before Christ, and the Christian religion was introduced four hundred years after Christ by Saint Nino [described as a ?holy captive woman? by the EB]. Like every ancient history, that of Georgia is a history of wars. The land was surrounded by hostile nations and tribes; in particular it was constantly assailed by the Ottomans and Persians. . . .

?The reign of Queen Tamara is regarded as the golden age of the land. The chronicles aver that under this queen prosperity prevailed, the fine arts flourished, splendid buildings were erected, -- the same as you find it in all the ancient documents of flattery under the name of history. . . . If the rulers were cruel, the strictness of their rule is praised; if they were not, then this negative virtue is extolled to the skies. So it is to be read in the chronicle concerning Tamara, ?No one at her command was deprived of his limbs or of his eyesight? and that is the more noteworthy as at her time and afterwards the principle laid down by one of her ancestors, the heroic Wakhtang Gorgaslan, was in full force: ?Whoever in war escapes death and fails to bring back the head or the hand of an enemy shall die by our hand.?. . .

?At the beginning of her reign Tamara?s kingdom was threatened by the Persian caliph Nasir-ed-Din, who marched against the borders with a ?numberless? host. Then Tamara summoned her troops; in ten days she collected battle-joyous legions from all quarters, had them march before her in review. . . Then she delivered to them the banner of her ancestor. Of course the troops went and won a brilliant victory over the foe. When they returned home the queen hastened to meet them, and the soldiers, enraptured to see her in their midst, compelled all the chieftans of the Persian army to bend their knees before the queen.? And Bertha remarks: ?Probably the incident is related differently in the Persian chronicles.?

?A few years later Rokn-ed-Din, sultan of Asia Minor, collected eight hundred thousand (!) men and marched against Georgia. He sent the queen, by his ambassador, the following polite message: ?I would have thee to know, O Tamara, sultana of the Georgians, that all women are of weak understanding. Now I come to teach thee, thee and thy people, no longer to draw the sword, which God has given into our hands alone.? . . .
?Tamara read the message ?without haste.? She gave her commands for the troops to assemble, and she herself rode out at the head of her army against the enemy. Of course the victory was complete: the streets of Tiflis were decorated and the queen made her triumphal entry glittering like the sun.

Clio adds (alluding to the following part of the story, as told by Bertha von Suttner), that ?glittering like the sun? meant that ?Tamara had put on all her precious ornaments ? her crown of precious stones, her gold brooches and strings of pearls. Anew she glitters like the sun.? But then, in the course of distributing gifts and alms to her people, an old beggar woman refused to receive the gift from anyone but Tamara, who decided the old lady must be Mary the Holy Mother of God. ?And [Tamara] tears all the precious ornaments from her body and carries everything, the pearls and the diamonds, to the nunnery of Gaenathi, dedicated to the Madonna.?

Clio observes that, even in medieval Georgia, women rulers faced hostility on account of their sex, but splendor and courage, plus good works, glittering like the sun, and sacrifice, assured her reign for nearly thirty years; legend has it that she was laid to rest in this same nunnery. Women who aspire to political power today do not have to deck themselves out in gold, diamonds, and pearls in order to shine like the sun, but even in today?s democratic societies style and elegance are essential. The body and its adornments carry their own forms of power.


Sources: Encyclopedia Brittanica (1968 ed.), vol. 10, 229c; Memoirs of Bertha von Suttner, vol. 1 (1910), 255-257.