CLIO Talks Back

Karen Offen
United States
I.M.O.W.'s debut blog, Clio Talks Back, will change the way you think about women throughout history! Be informed and transformed by Clio Talks Back, written by the museum's resident historian Karen Offen.
Inspired by Clio, the Greek muse of History, and the museum's global online exhibitions Economica and Women, Power and Politics, Karen takes readers on a journey through time and place where women have shaped and changed our world. You will build your repertoire of rare trivia and conversation starters and occasionally hear from guest bloggers including everyone from leading historians in the field to the historical women themselves.
Read the entries, post a comment, and be inspired to create your own legacies to transform our world.
---
Economica: Global Online Exhibition is Unveiled!
2009-10-21 00:00:00.000
By Sarah Beckett-Hile, outreach volunteer

For the past several months, your trusty I.M.O.W. team has been hard at work to prepare our newest online exhibition, Economica: Women and the Global Economy. Well, after countless hours and who knows how many cups of coffee, we are happy to announce that Economica is finally here!

Economica is a vivid and timely snapshot of women's global economic participation, featuring powerful voices and images from around the world. It shows that while women are uniquely impacted by economic volatility, they are often best equipped to offer new economic ideas and solutions.

Why did we decide to feature the economy, you ask? It's true that there are countless issues that affect women today, from domestic violence to sex trafficking and reproductive rights. Some people might wonder, is the economy really a "women's issue"? Doesn't it affect everyone equally? And besides, isn't the economy kind of an isolated topic?

In a word, no. Women make up 70% of the world's population living in extreme poverty. They own only 1% of the world's land. They work the vast majority of the world's unpaid hours - cooking, raising children, harvesting crops on family farms and walking miles to obtain drinking water. Women are also the fastest growing group of entrepreneurs, and are swelling the ranks of businesses like never before. They will soon be the largest group of professionals, currently making up 53% of the world's university students.

Furthermore, the economic status of women is tied to nearly every other important women's issue. One 2005 study in India found that women who owned property experienced significantly less domestic violence than other women, presumably because this shifts the family's power paradigm. Better job opportunities for women reduce their vulnerability to sex traffickers. Improved economic status vastly increases a women's control over her reproductive self, which reduces fertility rates and, for all you environmentalists out there, consequently reduces consumption of global resources. To learn more, check out Dr. Masum Momaya's Curator's Statement.

This is why we at the museum think the economy is the most important and pervasive issue to address at this time. Despite the fact that few people hear the word "economy" and think "women," the economy is very much a women's issue.

We hope you enjoy the exhibition we have put together. Economica was curated by Dr. Momaya and and produced by the I.M.O.W. exhibitions team, who have searched far and wide to feature today's foremost thought-leaders, organizations, and visionaries. We interviewed women who have made extraordinary differences in the economic status of their communities, who have helped women help themselves. We highlight the growing trend of microfinance in South America, the impact of the food crisis in Egypt, the significance of the subprime mortgage crisis in the United States, and so much more.

After you visit the exhibition, we hope that the word "economy" will never again solely bring forth images of wealthy men in expensive suits at the New York Stock Exchange or of talking heads on TV debating national economic policy.

Instead, we hope "economy" will elicit images of a girl selling baskets she wove with the help of a microloan, of a mother who works her family farm to feed her children, and of a women who has just become her company's first-ever female CEO. Tour the exhibition and you'll know: the economy is a women's issue.
---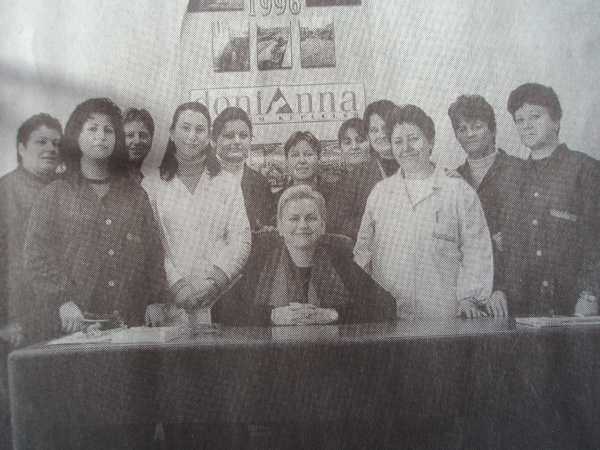 Juli Siri, rephotographed by Clio
Donika Mici and her staff - 1996
Albanian woman entrepreneur make good: meet Donika Mici
2009-10-18 09:25:27.000
Clio has been traveling lately, both through time and space. A recent article about a path-breaking entreprenurial woman from Albania caught her attention. It appeared in the International Herald Tribune (The Global Edition of the New York Times).

In the spirit of I.M.O.W.?s newly-launched online exhibit, ?Economica: Women and the Global Economy,? Clio presents a woman making history in the business world today by defying convention and ?thinking otherwise.? Her name is Donika Mici. She lives in Albania and her company makes shoes for the export trade.

Here is her story, as told by Dan Bilefsky of the New York Times:

?Donika Mici has braved decades of dictatorship, the burning down of one of her factories, a near-civil war and a mother-in-law who thought she would be better off in the kitchen than running a fashion empire.

?Now, however, Ms. Mici, 47, chief executive of DoniAnna, the largest shoe manufacturing business in Albania, says the time has come for Albania Inc. to shed its outmoded image and overcome the hurdles of the past.

?While other shoe exporters produce at least part of their shoes in nearby Italy so they can gain the cachet of a ?Made in Italy? label, Ms. Mici makes shoes only in Albania and proundly insists that a ?Made in Albania? label is no longer an impediment to success.

?DoniAnna boasts an enviable client list of retailers, from mass-market chains like Macy?s and Bata to specialists like Aldo and Kenneth Cole. The company had sales of more than ?14 million, or $20.4 million, in the first six months of this year. It employs about 1,400 workers and exports to more than a dozen countries, including Italy, the United States and France.

??You have to be very, very tough to succeed in this country, because we started with nothing after communism fell in 1990,? said Ms. Mici, a down-to-earth mother of one, whose main concessions to fashion are Versace glasses and a train of Chihuahuas following her on DoniAnna?s sprawling factory floor.

??Now, Albania is heading in the right direction to become a modern European country and there is no turning back,? she said. . . .

?Assuming the economy remains relatively stable, Ms. Mici said Albania?s potential resided in a low-cost and hard-working work force that, she argued, made the country an attractive manufacturing center. She added that Albania had the potential to become an outsourcing alternative to China and India.

??We have low wages, and we do not skimp on quality,? she said, rubbing her painted fingernails over a stack of brown cowhide leather. ?And while it can take six months for a manufacturer in Bangalore to fill an order for a European shoe retailer, Albania?s location means it takes only 30 days for my shoes to go from factory floor to a shelf in London or Paris.?

?The daughter of an army officer and a chef, Ms. Mici started DoniAnna in 1992 ? a time, she recalled, when Albania was still so isolated that microwave ovens were unattainable and she was the only woman driving a car in Tirana. With no credit available from a then-nonexistent banking sector, she teamed up with an Italian investor. Within a few years, she was producing a million pairs of shoes a year and exporting across the world.

?The stress was unbearable, she recalled, not least because she was a woman in an abidingly macho society. When she showed up for meetings with male suppliers, she said, they would routinely ask her to see the boss. ?I?m a pioneer in this country because I was one of the first people, never mind women, to set up a private business after communism fell,? she said. ?My husband?s family were not happy, but I hired a nanny and someone to cook and clean and iron his clothes. I told my husband, the system has changed and these are the new rules.?

?Building an export-oriented company from scratch also proved difficult, she said, in a nascent democracy where regulations governing everything from customs duties to safety did not exist.

?In March 2008, when a former military ammunition depot exploded in Gerdec, a village northwest of Tirana, killing 26 people, DoniAnna?s nearby factory was burned to the ground, causing more than ?1 million worth of damage.

??My company could be five times bigger but all of these hurdles slowed me down,? she said. . . .

Clio says: We can all learn from courageous women like Donika Mici, whose drive and determination can inspire other women to take that entrepreneurial leap. Are you one of them? Think hard about the project you would like to launch?.. and then do it!


Source: Excerpted from Dan Bilefsky, ?Struggling to help a country heal: Albanian entrepreneurs lead effort to throw off a long and troubled history,? International Herald Tribune (The Global Edition of the New York Times) 3-4 October 2009, 15-16.
---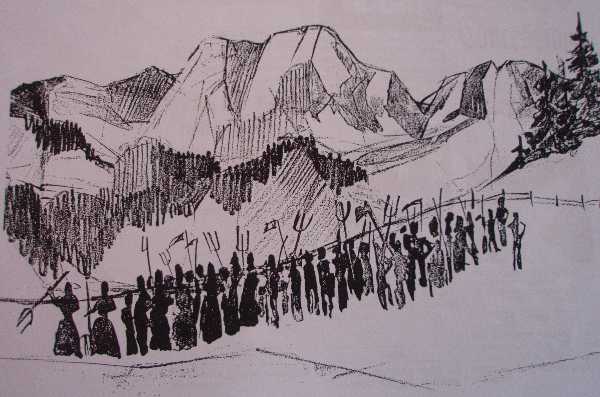 photo by Clio - from L'Eau, source de vie: Tricentennaire des bains de la Lenk (1989), p. 10
Wyberschlacht -- the Lenk women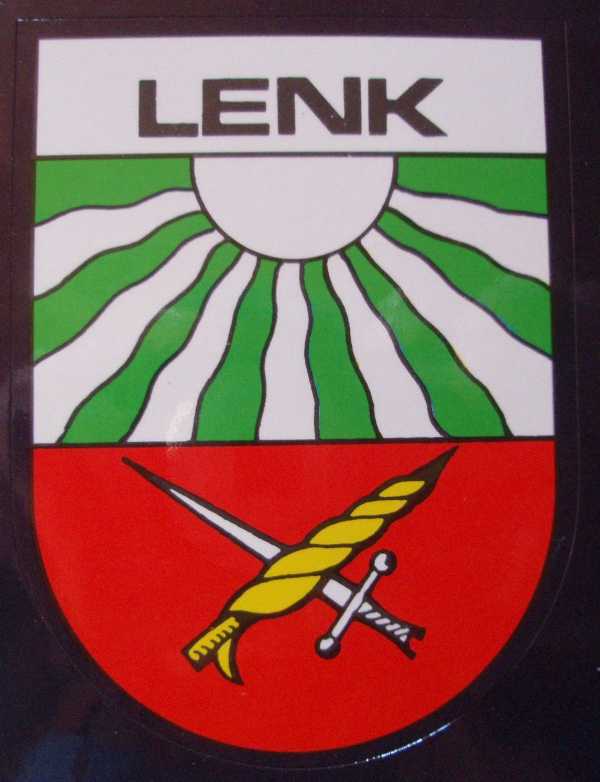 photo by Clio
Lenk coat-of-arms (Wappen)
Cows (and Women) Rule!
2009-10-08 02:38:04.000
In the Simmental, a lovely valley in the Alps of the Bernese Oberland, in the German-speaking part of Switzerland, cows rule.

Grazing on the lush green sloping pastures of the Alps, they provide an unsurpassed, healthy milk that is made into many products, most notably the local Alpkäse, or Alp cheese.

Cows are everywhere, even next door and walking down the road. The sound of the cows? bells provides a soothing serenade to visiting hikers and locals alike. The Swiss celebrate the cows' contributions with flower garlands as they wend their way, in spring and fall, to and from the high Alpine pastures. For centuries, cows have been the very backbone of life for the people of this area.

Many of you have heard of the world-renowned Emmenthaler cheese. The Simmental Alp cheese tastes just as good, but has no holes. It is solid through and through, like the beautiful, belled (mostly brown and white) cows that produce its milky source. Like great wine or whiskey, it gets tastier with age.

Producing excellent Alp cheese is an art, and the best is sold from cellars up in the mountains (usually near a mountain restaurant).

Cows and farms and dairying go a long ways back in the history of Lenk, the town at the end of the Simmental. In fact, the principal historical legend concerning Lenk has to do with women and cows. In this case, it was about women defending their cows from marauding cattle thieves.

The town?s coat of arms proudly displays a crossed sword and spindle, honoring the heroism of the women of Lenk in the Women's Battle.

This is the story as told by the Lenkers:

The inhabitants of Lenk are proud of their women. According to the saga, around 1530, on the Langermatte [a steep mountain in front of the massive, stark and craggy mountains in this area], the women of Lenk delivered a devastating defeat to cattle thieves from the Valais [on the other side of the mountains]. Lacking weapons -- the men had left home with their arms to fight in the wars of religion [associated with the Reformation] ? the women did not hesitate. They seized on scythes, hayforks, and axes and went after the invaders. They were defending their very livelihood, their cows ? the base of their economy. And they did not let up in their struggle until all the would-be cattle rustlers were dead.

The legend of the Women?s War, the so-called ?Wyberschlacht? on the Langermatte, is alive and well. A memorial, ?Bi de Tote? at the site of the battle suggests how violent the battle must have been. The spindle and sword in Lenk?s coat of arms commemorate these fearless women. Still today the men of Lenk honor these women?s heroic deeds by stepping aside to let them enter the church first.

Source: This legend, or saga, is widely known in Lenk. Clio encountered it first on an informational sign posted by the local Tourist Office. It is told and retold in various publications since the early 1800s, including Georg Küffer, Lenker Sagen (1916) and Die Lenk in alter Zeit (1978).