CLIO Talks Back

Karen Offen
United States
I.M.O.W.'s debut blog, Clio Talks Back, will change the way you think about women throughout history! Be informed and transformed by Clio Talks Back, written by the museum's resident historian Karen Offen.
Inspired by Clio, the Greek muse of History, and the museum's global online exhibitions Economica and Women, Power and Politics, Karen takes readers on a journey through time and place where women have shaped and changed our world. You will build your repertoire of rare trivia and conversation starters and occasionally hear from guest bloggers including everyone from leading historians in the field to the historical women themselves.
Read the entries, post a comment, and be inspired to create your own legacies to transform our world.
---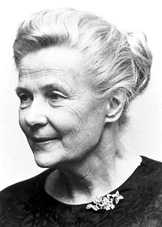 www.nobelprize.org
Alva Myrdal
Reconciling Women?s Employment with Motherhood in Sweden, 1930s: Alva Myrdal
2010-10-18 22:22:29.000
Women in many countries today think that the problem of reconciling motherhood with employment is a new problem. Unfortunately, it is an old problem, one that has been debated repeatedly throughout the previous century in many countries.

Among the first to address this issue and come up with workable solutions was the Swedish social reformer and political activist Alva Reimer Myrdal (1902-1986).

Sociologist, author, politician, diplomat, and Nobel laureate (Nobel Peace Prize - 1982), Myrdal first entered public life with her plans for reconciling women?s employment with motherhood in the 1930s. Myrdal was educated at the universities of Stockholm and Uppsala. She married the economist Gunnar Myrdal in 1924, the year she graduated, and working together (while raising three children of their own) they revolutionized the ideas of both Swedish socialists and the Swedish women?s movement.

Why Sweden? For a variety of reasons, including extensive emigration and a falling birthrate, Sweden in the 1930s had been experiencing severe problems with lack of population growth and replacement. Social Democrats in Sweden, who controlled the government then and since, had advocated the spread of birth control information in order to improve the living standard of the poor ? but this approach was opposed by those who feared further population decline.

Alva Myrdal succeeded in reframing the view commonly held not only in the socialist movement but in many other sectors of society, including the religious right-wing ? that married women should not be permitted to remain in the labor force. On the contrary, she insisted that women workers should be aided, not penalized, if they married and bore children. As Myrdal described her accomplishment, ?The old debate on married women?s right to work was turned into a fight for the working woman?s right to marry and have children.? In order to implement such a policy, a support system for women including family planning, child care, sex education, and modification of domestic labor and even of domestic architecture would, she believed, have to be instituted by the government.

The Swedish government set up a Population Commission and appointed Alva Myrdal secretary of the Government Committee on Women?s Work. In that capacity, from 1935 to 1938, Alva Myrdal was able to realize enactment of many of her ideas, with help from her husband, who was a guiding member of the Population Commission. In her book Nation and Family, Alva Myrdal documented both the evolving ideology and the Swedish government?s implementation of her plan to facilitate a dual role for women ? as participants in the labor force and as mothers of families. Among her proposals were several radical ideas ? to attack the then-prevailing notions of sex-role socialization and to promote the participation of fathers as well as mothers in household and childrearing tasks. She extended her analysis in a subsequent book with Viola Klein, Women?s Two Roles: Home and Work, published in 1956 and most recently reprinted in 2003.

Clio recommends that everyone interested in this question of reconciling motherhood and employment revisit Myrdal?s writings and the subsequent solutions implemented by the Swedes which made their country one of the most prosperous and peaceful nations in the world.

Further suggested reading:

Alva Myrdal, Nation and Family: The Swedish Experiment in Democratic Family and Population Policy (London, 1945; reprinted 1968 by MIT Press; originally published in Swedish, 1940)

Yvonne Hirdman, Alva Myrdal: The Passionate Mind (Bloomington: Indiana University Press, 2008; originally published in Swedish).