CLIO Talks Back

Karen Offen
United States
I.M.O.W.'s debut blog, Clio Talks Back, will change the way you think about women throughout history! Be informed and transformed by Clio Talks Back, written by the museum's resident historian Karen Offen.
Inspired by Clio, the Greek muse of History, and the museum's global online exhibitions Economica and Women, Power and Politics, Karen takes readers on a journey through time and place where women have shaped and changed our world. You will build your repertoire of rare trivia and conversation starters and occasionally hear from guest bloggers including everyone from leading historians in the field to the historical women themselves.
Read the entries, post a comment, and be inspired to create your own legacies to transform our world.
---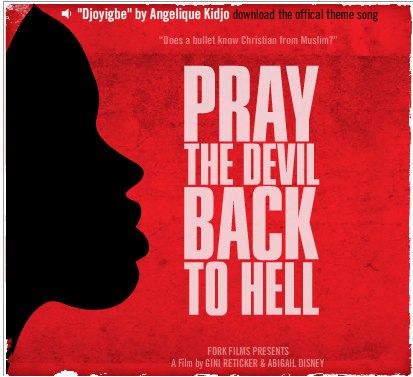 Poster for "Pray the Devil Back to Hell"
Liberian Women Taking Action for Peace
2008-12-16 00:00:00.000
Clio recently attended the screening of a new documentary film, ?Pray the Devil back to Hell,? directed by Gini Reticker and produced by Abigail Disney. This film tells the ?remarkable story of the courageous Liberian women who came together across faith to bring peace to their shattered country.? Powerfully rendered, this passionate story of grassroots action by women gives the viewer a great deal to think about!

These brave women in Liberia were fed up with the killing, rape, and decimation of the country and its people by warring forces and they came together, across religious lines ? Christian and Muslim ? to stop it, founding the Liberian Women?s Initiative (LWI). As the situation deteriorated still further, they persisted ? and this is a key element ? sitting in, dressed in white, with T-shirts proclaiming their mission ? not only in the fish market in Monrovia but also at the peace negotiations in Accra, Ghana. They were ultimately instrumental in getting the warring sides to agree, forcing out the president-become-dictator Charles Taylor, and welcoming the United Nations pacification forces who collected and destroyed the weapons that had led to so many senseless deaths, maimings, and destruction of the country?s infrastructure. And, finally, they helped to promote the candidacy and election of Ellen Johnson-Sirleaf as president of Liberia. They remain on the watch, as their nation attempts to revive.

The work of these women is testimony to what the united force of women can accomplish. Here is the text of their 1994 manifesto:

?We, the women of Liberia, are the mothers of the land. We feel the joys and sorrows of this land in a special way because we are women. Not only do we represent one half of the population, but we also feel a special sense of responsibility for our children, our husbands and our brothers who make up the other half of the population. We take care of the society. We soothe the pains. We are the healers and peacemakers. We call on all women of Liberia at home and abroad to unite and join our efforts in aiding the peace process in Liberia clear its final hurdle. The struggle for survival as a nation and as a people is presently at a delicate and crucial stage. For the past four years, we have been killed, raped, starved to death, misused and abused. We have witnessed the horror of having our children, our husbands, our fathers and other relatives killed and maimed before our very eyes. We have experienced starvation to the point of becoming walking skeletons. We have been stripped of our dignity as human beings! The women have borne all of this victimization with suffering and stoic silence. This silence is not to be construed as weakness or acquiescence.?

This effort is dramatic, forceful, and inspirational. But it is by no means the sole example from history of women coming together against war. We have seen Israeli women making common cause with Palestinian women to curb hostilities. Clio has already blogged about the women?s massive petition for peace presented at the international disarmament conference in 1932, sponsored by the League of Nations. But even this was not women?s first effort to work together across national lines in pursuit of peace. Clio has been impressed by the extraordinary contributions of Bertha von Suttner, with her internationally ? famous novel Lay Down Your Arms, to combat militarism and war; as an inspirational leader of peace efforts in Europe before World War I (1914-1918), she became the first woman to be awarded the Nobel Peace Prize (1905). Clio can tell many stories about women coming together, across national boundaries, across oceans, and across religions to attempt ? and sometimes to succeed ? in accomplishing the unthinkable ? bringing an end to war.






Sources: http://www.PrayTheDevilBackToHell.com . African Women and Peace Support Group, Liberian Women Peacemakers : Fighting for the Right to be Seen, Heard, and Counted (Trenton, NJ & Asmara, Eritrea: Africa World Press, Inc., 2004).