CLIO Talks Back

Karen Offen
United States
I.M.O.W.'s debut blog, Clio Talks Back, will change the way you think about women throughout history! Be informed and transformed by Clio Talks Back, written by the museum's resident historian Karen Offen.
Inspired by Clio, the Greek muse of History, and the museum's global online exhibitions Economica and Women, Power and Politics, Karen takes readers on a journey through time and place where women have shaped and changed our world. You will build your repertoire of rare trivia and conversation starters and occasionally hear from guest bloggers including everyone from leading historians in the field to the historical women themselves.
Read the entries, post a comment, and be inspired to create your own legacies to transform our world.
---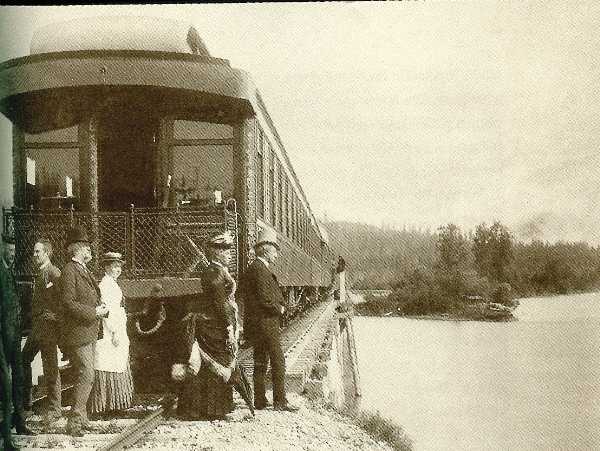 As reproduced in This Wild Spirit, ed. Colleen Skidmore, from GAA NA -4967-132
The Macdonalds on their 1887 train trip across Canada, at Stave Lake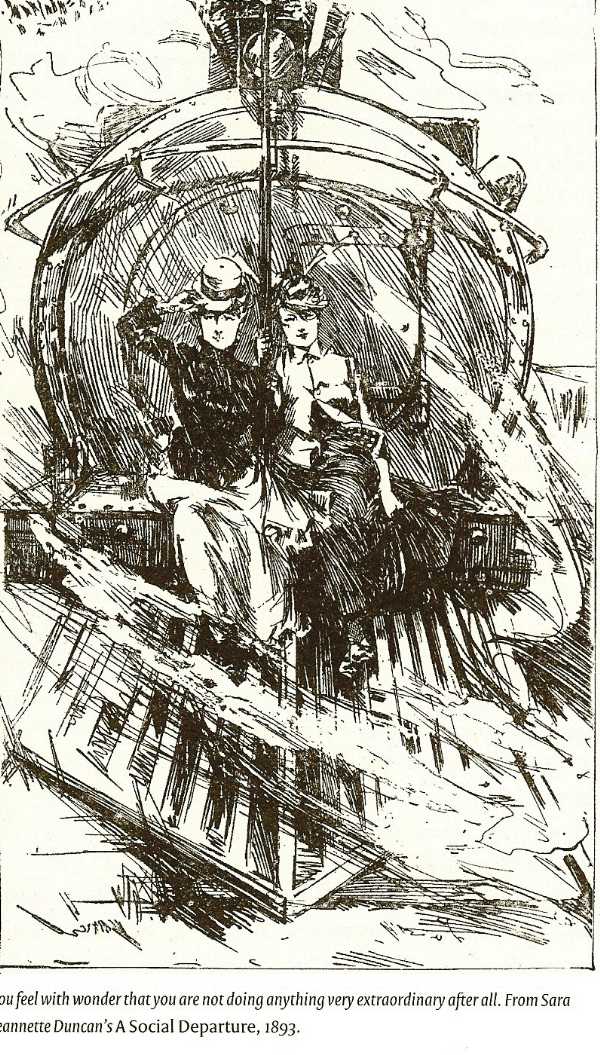 As reproduced in This Wild Spirit, ed. Colleen Skidmore, from Sara Jeannette Duncan
Riding the Cowcatcher - the fad begun by Agnes Macdonald
A Prime Minister?s Wife Goes Adventuring in the Canadian Rockies, 1887.
2008-07-25 16:39:58.000
Lady Agnes Macdonald (born Susan Agnes Bernard, 1836-1920) was the second wife of the Scot John A. Macdonald who served as prime minister of Canada (from 1867 to 1873 and again from 1878-1891). By all accounts she was a rather strong-minded, austere person, ill at ease in society, and no doubt depressed by the birth in 1869 of a terribly handicapped daughter.

During the prime minister?s second term, following the completion of the Canadian Pacific Railroad in 1886, the Macdonalds embarked on a journey by train across Canada to the Pacific coast to publicize the new route. Agnes quickly became enthralled by the beauty of the Rocky Mountains, as well by the power and novelty of steam locomotives.

In the Rockies Agnes Macdonald, who was about to turn fifty (her husband was some twenty years older), made a very audacious, impulsive decision ? to ride on the locomotive?s cowcatcher (she described it as ?a sort of barred iron beak, about six feet long, projecting close over the track in a V shape, and attached to the buffer-beam by very strong bolts,? designed to clear the tracks of any obstacle, including wandering animals). Her adventure, which she wrote about and published in a Canadian magazine, encouraged later women travelers to imitate her action. Thus riding on the cowcatcher quickly became a fashionable activity! It would be the equivalent of sky-diving today.

Here is Agnes Macdonald?s description of her encounter with the locomotive in the Rockies:

?. . . from the instant my eyes rested on the broad shining surface of its buffer-beam and cowcatcher, over which a bright little flag waved from a glossy brass pole, I decided to travel there and nowhere else for the remaining 600 miles of my journey [from Laggan, west of Banff, to Vancouver, British Columbia)! . . .

?When I announced my desire to travel on the cowcatcher Mr. E. [the superintendent] . . seemed to think that a very bad job indeed. To a sensible, level-headed man as he is, such an innovation on all general rules of travelling decorum was no doubt very startling. He used many ineffectual persuasions to induce me to abandon the idea, and almost said I should not run so great a risk; but at last . . . he so far relented as to ask what I proposed using as a seat. Glancing round the station platform I beheld a small empty candle-box lying near, and at once declared that was ?just the thing.? . . . I asked a brakesman to place the candlebox on the buffer-beam. . . .

?Behold me now, enthroned on the candle-box, with a soft felt hat well over my eyes, and a linen carriage-cover tucked round me from waist to foot. Mr. E? had seated himself on the other side of the headlight. He had succumbed to the inevitable, ceased further expostulation, disclaimed all responsibility, and, like the jewel of a Superintendent he was, had decided on sharing my peril! I turn to him, peeping round the headlight, with my best smile. ?This is lovely,? I triumphantly announce, seeing that a word of comfort is necessary, ?quite lovely; I shall travel on this cowcatcher from summit to sea!

?With a mighty snort, a terribly big throb, and a shreiking whistle, No. 374 moves slowly forward. . . . for a moment I feel a thrill that is very like fear; but it is gone at once, and I can think of nothing but the novelty, the excitement, and the fun of this mad ride in glorious sunshine and intoxicating air, with magnificent mountains before and around me, their lofty peaks smiling down on us, and never a frown on their grand faces!

?The pace quickens gradually, surely, swiftly, and then we are rushing up to the summit. We soon stand on the ?Great Divide? ? 5300 feet above sea-level ? between the two great oceans. . . . Another moment and a strange silence has fallen round us. With steam shut off and brakes down, the 60-ton engine, by its own weight and impetus alone, glides into the pass of the Kicking Horse River, and begins a descent of 2800 feet in twelve miles. . . . Sunlight flashes on glaciers, into gorges, and athwart huge, towering masses of rock crowned with magnificent tree crests that rise all round us of every size and shape. Breathless ? almost awe-stricken ? but with a wild triumph in my heart, I look from farthest mountain peak, lifted high before me, to the shining pebbles at my feet. . . . With a firm right hand grasping the iron stanchion, and my feet planted on the buffer beam, there was not a yard of that descent in which I faltered for a moment. If I had, then assuredly in the wild valley of the Kicking Horse River, on the western slope of the Rocky Mountains, a life had gone out that day! I did not think of danger, or remember what a giddy post I had. . . . There is glory of brightness and beauty everywhere, and I laugh aloud on the cowcatcher, just because it is all so delightful!?

Today, a lake and a mountain peak in Banff National Park carry Agnes Macdonald?s name, honoring her passage ? and her spirit of adventure.

Clio observes: Today, no wife of a prime minister or president would ever be allowed, either by the government secret service or by the railroad?s insurance company (not to mention her husband), to take such a risk. Clio thinks that in earlier times a few high-placed women could and did have more fun in their traveling ? on official business, of course ? than their successors! Agnes Macdonald?s story reveals not only a tale of adventure and risk but also an exhilarating personal epiphany.


Source: Agnes Macdonald, ?By Car and by Cowcatcher,? Murray?s Magazine (1887), in 2 parts. This selection excerpted from Colleen Skidmore, ed., This Wild Spirit: Women in the Rocky Mountains of Canada (University of Alberta Press, 2006), pp. 100-103 passim. For further information on Lady Macdonald, see Louise Reynolds, Agnes, The Biography of Lady Macdonald (Carleton University Press, 1990), and the Dictionary of Canadian Biography Online www.biographi.ca under ?Bernard, Susan Agnes (Macdonald, Baroness Macdonald), politician?s wife.?

---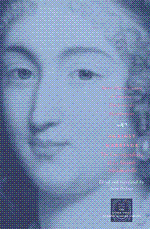 University of Chicago Press book cover, via Google
La Grande Mademoiselle
Clio Remembers a Powerful Princess: La Grande Mademoiselle (1627-1693)
2008-07-21 16:38:26.000
Anne-Marie-Louise d?Orléans, duchesse de Montpensier, was the daughter of Gaston d?Orléans ? the younger brother of King Louis XIII of France ? which made her the cousin of Louis XIV, the Sun-King, eleven years her junior. Inheriting her mother?s vast fortune, she was without a doubt the wealthiest young woman in France and perhaps in all of Europe. In consequence, she refused to become a commodity in the royal marriage market. Even her uncle the king could not force her to accept any of the proposed suitors. She yearned for a women's republic, where women could be free and independent.

In the account that follows, the story of La Grande Mademoiselle (as the duchesse de Montpensier was known) picks up with the outbreak of civil war in France (1647-53), called La Fronde, during which various factions of the nobility contested the authority of the king?s chosen minister Cardinal Mazarin. The incident described below by literary historian Joan de Jean took place when Montpensier was around 25 years old.

?. . . . Among the least expected consequences of the Fronde was surely the fact that during those tumultuous years, women from the highest ranks of the nobility participated in military actions to a degree unheard of in France before or since.

?Among them, three duchesses ? the duchesse de Chevreuse, the duchesse de Longueville, and the duchesse de Montpensier ? were by far the most visible: all three rode at the head of armies and played key strategic roles. Their military daring was so striking that their contemporaries referred to them as Amazons, as though they were the legendary women warriors come to life. Thus, Montpensier managed to enter the city of Orléans by battering down the only gate no one had thought to fortify and thereby won that city over to the rebel cause. Later, in an exploit that quickly became the stuff of legend, in July 1652 she gave the rebels, known as frondeurs, their final victory. The battle was raging throughout the streets of Paris, between the vastly outnumbered opposition forces, led by their finest general, the prince de Condé, and the royal army, under the command of their leading general, Turenne. Louis XIV and Mazarin were watching from high ground just outside Paris, awaiting the seemingly inevitable massacre ? when Montpensier issued orders to turn the cannon of the Bastille, which normally faced inward on the city, against the royal forces. Condé and the rebels were saved. And, as if to make certain that her first cousin the king would know who was responsible for his defeat, Montpensier ? in this case, every inch the ?grande? Mademoiselle ? dominated the scene from the towers of the Bastille: she even added a large hat and long plumes to make her already notable stature more impressive still and guaranteed that she would be visible from a great distance.?

Clio notes that following these events, Louis XIV ordered all the rebel leaders into exile and began building Versailles, where the nobility of both sexes would be required to reside under the surveillance of the king, subject to elaborate rituals that would keep them too busy to plot ever again.

Clio wonders how Europe?s history might have been vastly different, had the armies of the Grande Mademoiselle and the other two duchesses defeated the king?s forces. Could rank have trumped gender in such a situation? If the duchesses had overthrown the king, could they have then abolished the so-called Salic Law that forbade women from ruling France? Could women have then established their own republic?


Source: Joan de Jean?s ?Introduction: La Grande Mademoiselle,? to the Duchess of Montpensier?s Against Marriage (University of Chicago Press, 2002), p. 6.


---
Clio asks: Why exclude women from succession to the throne?
2008-07-14 10:17:03.000
The Japan Times for Nov. 4, 2005 carried a headline ?Anyone but a woman: prince. Adoption, concubines said preferable to an empress.?

Although a government panel had indicated its support for allowing a firstborn child to reign, irrespective of sex, so that the little Princess Aiko, daughter and only child of Crown Prince Naruhito and Crown Princess Masako, could eventually succeed her father, the old guard weighed in. This included the Crown Prince?s cousin, who vigorously opposed female succession in any form.

In fact Japan's restriction on female succession was put in place only in 1947, with the Imperial Household Law that limited successors to male descendants of emperors on their fathers? side. In fact, through history there had been eight empresses, but none who had provided male heirs. This was no question of a hallowed precedent but of a relatively recent law ? and laws can, of course, be changed. This did not bother the cousin, who insistently invoked 2,665 years of history, and insisted that female empresses had only been placekeepers for succeeding males. He advocated reestablishing the concubine system in order that male heirs could be produced, irrespective of monogamy.

But the more comic aspect of this debate emerged when the ?Y? chromosome issue came to the fore. The bloodline, through the male, could not be preserved with an indifferentiated succession scheme.

Some women in Japan found this debate onerous. The New York Times (27 Dec. 2005) quoted a professor of women?s history at Keiwa College, Mikiyo Kano: ?I think the fame succession system in the imperial family has led to the discrimination and oppression of women in general in Japan.?

The crisis finally came to an end in February 2006, when the Crown Prince?s younger brother, Akishino, announced that his wife Princess Kiko, age 39, was pregnant. They already had two daughters. In September the princess gave birth to a son ? who is now third in line. And the succession crisis was settled. What timing!

Clio is curious about how the discussions might have gone between the younger prince and his wife. Did Prince Akishino lay down the law and insist on trying? How did Princess Kiko welcome about this initiative? After all, it was her body that was needed to secure a male heir. What did she think? And how did Princess Masako, who had withdrawn totally from public life, respond? Clio believes that one day we may find out.
History has its ways?.

Sources: The Japan Times (Friday, Nov. 4, 2005); The New York Times (Tuesday, 27 Dec. 2005); San Jose Mercury News (Weds., Sept. 6, 2006).

---
Clio Talks about the United Nations? Convention on the Political Rights of Women, 1952
2008-07-05 11:37:58.000
Are you familiar with the United Nations Convention on the Political Rights of Women?

Clio would guess that only a small percentage of today's young women are even aware of its existence. And yet it has provided an important stimulus to change in the electoral practices of nations.

Here is what it says:

The Contracting Parties,
Desiring to implement the principle of equality of rights for men and women contained in the Charter of the United Nations,
Recognizing that everyone has the right to take part in the government of his country, directly or indirectly through freely chosen representatives, and has the right to equal access to public service in his country, and desiring to equalize the status of men and women in the enjoyment and exercise of political rights, in accordance with the provisions of the Charter of the United Nations and of the Universal Declaration of Human Rights.
Having resolved to conclude a Convention for this purpose,
Hereby agree as hereinafter provided:

Article I ? Women shall be entitled to vote in all elections on equal terms with men, without any discrimination.
Article II ? Women shall be eligible for election to all publicly elected bodies, established by national law, on equal terms with men, without any discrimination.
Article III ? Women shall be entitled to hold public office and to exercise all public functions, established by national law, on equal terms with men, without any discrimination.
. . .
[Articles IV through X deal with procedures. Article XI stipulates that ?Chinese, English, French, Russian, and Spanish texts ahll be equally authentic? and ?shall be deposited in the archives of the United Nations? and transmitted by certified copy to all members of the United Nations and to non-member state. Signing began on 31 March, 1953.]

Can you guess how many countries in today's world do not honor or have not signed this U.N. Convention?